Milkah Mwasi has made many sacrifices in order to overcome the storms in her life. She was raised in a poor family, so most of life's luxuries and even basic requirements were a fantasy to her.
As she prepares to receive her Bachelor of Commerce (Finance option) degree from the Jomo Kenyatta University of Agriculture and Technology (JKUAT), the G4S security guard reflects on how she pushed herself beyond her comfort zone to achieve her goal of earning a university diploma.
Mwasi reflected on her journey in an interview with Kenyans.co.ke on Wednesday, March 10, despite the many challenges she has experienced, hanging on to her ambitions of being an ambassador of hope.
Mwasi was a clever girl in her infancy, scoring 405 points in the Kenyan national examinations in 1994 at Sironga Primary School in Nyamira County.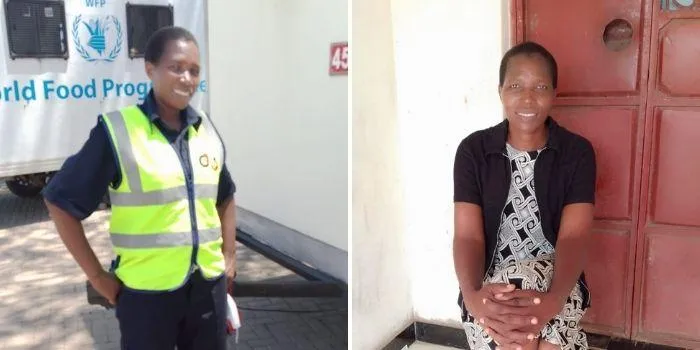 Her family, however, was unable to raise funds for her secondary education due to their poverty.
She recognized that her family was split between feeding her siblings and aiding her schooling, as she was born into a family of nine.
No one, however, could take away her passion to learn, her determination to alter her and her family's lives, or the ray of hope in her heart.
Mwasi wanted to be re-enrolled in primary school in order to extend the academic year. This would prevent her from lying around aimlessly, relapsing and failing to know herself and realize her heart's desires.
She had the fortitude to lose sight of the coast in order to see what awaited her.
However, the principal of the school to which she applied turned her down and encouraged her to continue her education. He claimed that if she was readmitted, her potential would be wasted.
Mwasi had no choice but to stay at home with her grandma and cry her heart out. Despite this, she was spared from her plight by a local who advised them to go to Marindi Secondary School and persuade the headteacher to give her a chance.
"He said that with my results, I would definitely raise the school's name. With my result slip, my grandmother and I went to the day school and I was lucky to be admitted. The principal was impressed with my results and personality. That was in 1995, in the middle of the first term.
"I was asked to purchase the school uniform and asked to pay the fees later," Milkah stated, adding that she reached out to an alumnus who donated her uniform.
She received a 54 out of 57 on her first exam, but this motivated her to do better on following exams. She was always sent home due to fee arrears, despite the fact that she was the school's shining star.
On May 1, 2016, security guards march during Labour Day festivities at 64 Stadium in Eldoret, Uasin Gishu County.
On May 1, 2016, security guards march during Labour Day festivities at 64 Stadium in Eldoret, Uasin Gishu County.
"In Form Two, I was barred from proceeding with my education until I clear my arrears. Anyway, the teachers and her uncle came together and aided her in applying for a bursary.
"Before that, I used to study at home. I made a timetable and used to wait for my classmates to return home from school so that I could borrow their books to read their notes. I got a C- that demoralised as it was below my expectations," she admitted.
Mwasi travelled to Nairobi and stayed with her aunt for a year before shifting to Mombasa to live with her sister. She went to work for a security agency there to help support her sister and make ends meet.
"They didn't pay us well, but I needed money to send back home," she noted.
Her sister found another job and gathered enough money to launch her own business in the thick of their hustling. Mwasi, on the other hand, returned home after her sister became ill and died.
She eventually gathered her confidence and returned to Mombasa to hunt for lowly jobs. One of them was employed as a housekeeper.
"I wasn't paid well and I quit. Life was hard but I still did not want to give up and go home. I worked for some agencies and was lucky enough to get a job at G4S where I have been attached since 2007.
"I enrolled for night classes at the Vision Institute of Professionals, Mombasa Campus in 2013 and graduated with a certificate in Certified Public Accounts (CPA)," Mwasi stated, detailing that she was overjoyed to accomplish her dream.
The security guard, later on, joined the Jomo Kenyatta University of Agriculture and Technology (JKUAT) Mombasa Campus for a Bachelor of Commerce (Finance option) in 2018.
"I am on the graduation list. Life couldn't have been fairer, the journey couldn't have been easier, but the faith couldn't have been weaker. What doesn't bring you down makes you stronger.
"Story of my life," she concluded.