The public has seen her daughter's face for the first time thanks to former Citizen TV personality Kambua.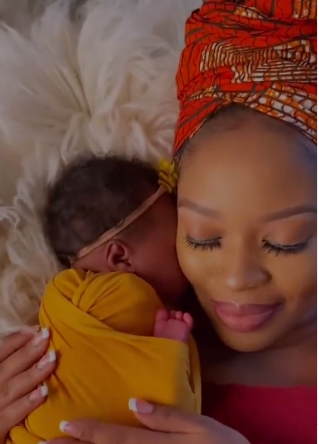 The gospel performer thrilled fans yesterday by posting pictures of her third pregnancy bump on social media.
Kambua shared a video of herself and her daughter, in which she stated that she gave birth months earlier.
Nathalie Nyacira Muthiga Mathu. Most beautiful little girl I have laid my eyes on, with a gentle spirit to match. The last couple of months have been so precious with you, my rainbow 🌈. It is truly an honor being your mama. My God- my great and exceeding compensation; thank you for blessing us. God of Kambua, thank you for remaining true to who you are. Kwa Yale yote umetenda niruhusu nitoe shukurani 🦋🖤
The birth of her daughter comes 1 year after she lost her new born son Malachi.
Taking to her socials yesterday Kambua shared photos of her 3rd baby bump celebrating her blessings.
She added that when people called her barren God was working on miracles in her life.
"A little over a year ago I held my precious baby boy in my arms as his little body grew cold. I was engulfed in a thick, thick darkness.
I got to know heartbreak like I never knew possible. But God. He sat with me in my darkness. And slowly he began to lift me. He reminded me also that years ago I received a doctor's report that said I could never have children.
He reminded me that as the world mocked me He was busy working for my good and His glory.Right now a woman somewhere has just learned that her body is not "competent" enough to carry children. Or that her baby won't survive her pregnancy."
She went on to encourage women going through the same.
"A woman has just had a miscarriage… maybe for the fifth time. A woman somewhere has just birthed a perfect, sleeping baby. Oh I know the pain. I know it. But I also know that God heals- he gives the strength and courage to move forward. And He restores. Mungu anatutarajia mema. May He heal, carry, and restore you."
Kambua and her husband struggled to bear a child for almost 7 years before they were blessed with their first born child Nathaniel.
They were later blessed with a son who they named Malachi,sadly he passed away.