Entertainment
Lifestyle
Mr. Agriculture! Akothee celebrates hardworking farmer, asks her fans to unfollow her and follow him
Award winning artiste, Esther Akoth aka Akothee has inspired her fans after celebrating one of her fans who is a professional farmer.
Taking to her social media platforms, Akothee celebrated him as the fan of the year for his hard work.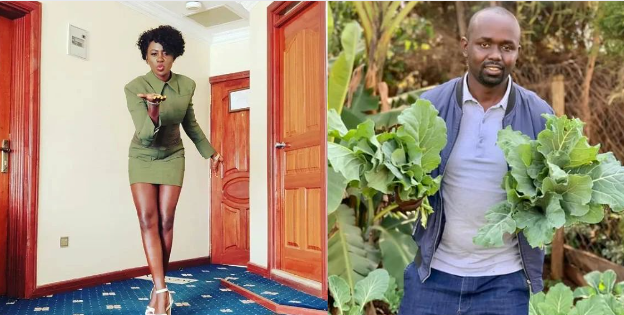 Here's her long statement heaping praises on Mr. Agriculture:
"Good morning, let Facebook, social media be a tool and not a weapon, also you who goes to scroll on social media, go with an open mind to learn, don't be a follower be a student. There is soo much that you can learn and achieve just by bumping into one post. I bumped into This guy, stayed on his profile with my fiancée for an hour.
Allow me tell you Sir, you have changed my perspective about farming, that was a great tour on your wall. I will for sure come for some advice, CONGRATULATIONS AND LET THE YOUNG ONES LEARN FROM YOU.
Anyone who see social media as A weapon to destroy others, get ready to die poor and miserable, people post their achievements for you to be encouraged and learn, not for you to get jealous, bitter and start competitions we are not fighting each other we are all fighting against poverty. No one wants to suffer; we all want to live and not just survive.
Good morning farmers tag him for me I forget his handles only downloaded the photos, I want all of the farmers here to follow him. And tell him CONGRATULATIONS."
In another post, Akothee urged her fans to unfollow her and follow him for inspiration.
"Fan of the year MR AGRICULTURE, Mr. Agriculture, People looking for inspiration should unfollow me now
And Follow Him, he inspires alot, great business acumen. All lazy noise makers, keyboard warriors on this page, this guy is your AGEMATES. Nyinyi hamna hata kuku. Follow him for encouragement. CONGRATULATIONS MR. GOOD JOB," she wrote.
Acknowledging Akothee's comments, the farmer replied saying:
"When you do what you love, you awaken & inspire the hearts & souls of others. Asante sana Madam boss Akothee. Ukulima sio ushamba, ukulima ni fun. 👌 #AgribusinessTalk254."
Looking at his Photos, indeed Mr. Agriculture is a hardworking farmer who engages in all forms of farming.
Take a look at the photos below: