Rapper King Kaka has recounted the tough times he has gone through as he recovers from an illness.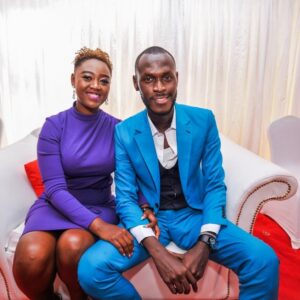 The award-winning rapper was hospitalised for three months.
The "Wajinga Nyinyi" hitmaker shared an image of himself taken two days after he had been admitted in hospital, noting he is still in disbelief.
File image of King Kaka in hospital 2 days after he was admitted. |Courtesy| Facebook|
"That's me , still can't believe it. 2 days after I was admitted and they had just finished drilling on my hip bone for a bone marrow sample. I was in between worlds fighting to see my family once more," he narrated.
"I would force my last smile when Nana & Moms visited but truth is the nights got darker and I would be back in the ring with life," he added, noting that it is a feeling and place you can't put in words.
King Kaka stated that he endured multiple temptations but managed the strength to fight them all and get to be with his family.
Noting that he is not yet fully recovered, the rapper urged Kenyans to embrace the good health they enjoy and be grateful.
"Not yet out of the woods but I've just realized that waking up is a Blessing , are you able to eat? that's a blessing. You have a support system? That's a blessing," he said.
He extended a message of gratitutde to his doctors; to Dr. Adil, Dr. Stanley & Dr. Aggrey along with nurses; Wanjiku, Vio, Chacha, Peter and all those that cared for him during the time he spent in hospital.
He thanked his wife Nana Owiti for being beside him through it all, and also his mothers, Deno, Kenny, close friends, brothers and everyone who visited him in hospital.
King Kaka also recognised and thanked all his fans who don't know him personally but said a prayer.
The rapper released a new song today, in which he summarised the tough time he underwent while in hospital.
"One day I will tell the full story but as of now I have summarized it in a song. I know we have different struggles, I hope that this song revamps the little hope and light left in you. You have a destiny and God has a plan for you," he said.