Mathias Machika walks in a circular motion with a big bull tethered to a wooden plank to help move a sugarcane crusher.
Machika, the owner, has been grinding cane with the bull at his Imamune village house in Ikolomani sub-county since he began making jaggery around ten years ago.
To make finances meet, he turned to the time-consuming traditional process of manufacturing jaggery.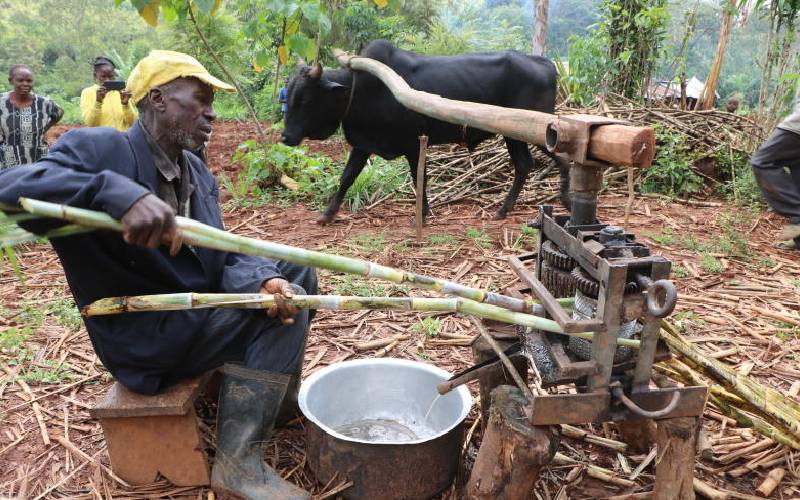 Appearing for an interview with the Standard, Machika, was dressed in overalls, blue pants, gumboots, and a ragged yellow cap, and was busily pressing the cane into two circular aluminum cylinders mounted on a metallic frame.
Two shafts at the bottom of the two-cylinder rollers allow them to grind sugarcane more efficiently and quickly.
Machika said that the business pays him between Sh10,000 and Sh15,000 every day.
"I have employed seven people whom I pay at least Sh300 every day to assist me in making jaggery. Two of them cut cane on the farm and transport it to the grinding site, one helps rotate the bulls and another collects the crushed cane. Others place the cane into the grinder and two others heat the collected juice and scoop it into small metallic containers to form jaggery after undergoing the cooling process."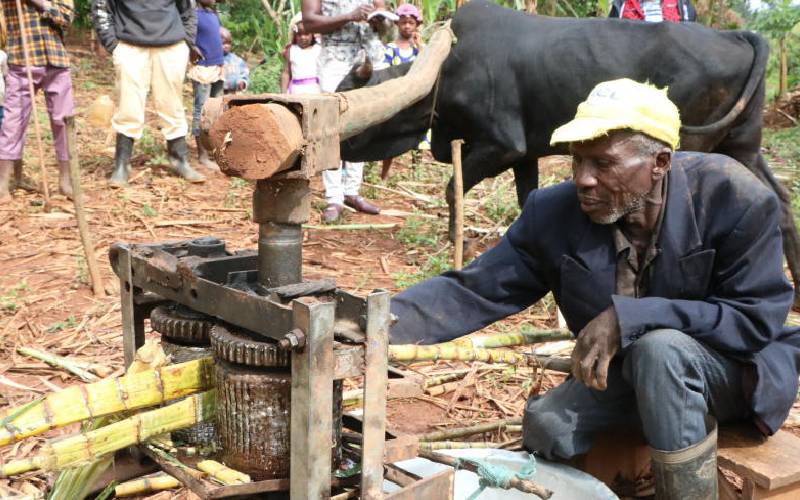 The cane juice is collected in a massive aluminum sufuria conveniently placed beneath the cane grinder.
"We collect the juice in the sufuria and the sugarcane waste is dried in the sun and used as firewood," said Machika.
Machika may sometimes crush cane with three bulls at once, "particularly when customers place significant orders for jaggery."
After local sugar manufacturers ran into difficulties, the father of seven says he turned to make jaggery.
"Like many residents of Kakamega, I used to grow sugarcane but it was not possible to sell my crop after sugar factories started experiencing problems, so I was forced to invent ways of eking a living," Machika told The Standard.
"Instead of seeing my sugarcane crop rotting on the farm, I started crushing it in small quantities and people would come to buy jaggery some from as far as Navakholo, Malava and even Lugari sub-counties."