There was drama in Dubai as Samidoh's baby mama Karen Nyamu fought with his wife Edday Nderitu during a his live performance.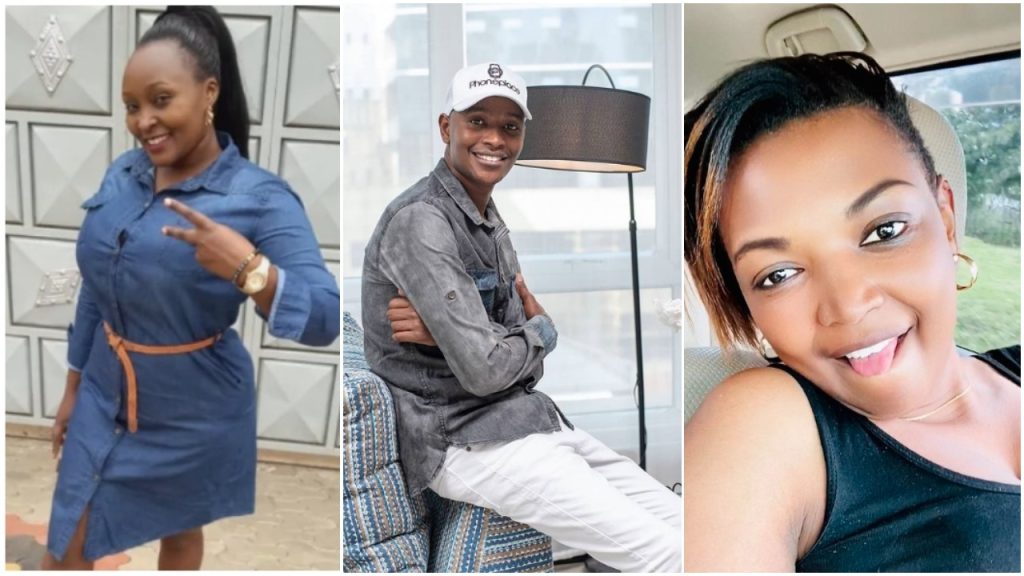 It is not yet known what caused the fight, but according to the video, Karen is seen being pushed away by the bouncers from the scene.
Soon after, Samidoh is escorted out of the concert with his wife leaving behind Karen.
Is city politician Karen Nyamu slowly winning the battle for singer Samidoh's heart at the expense of his wife?
https://twitter.com/rodah_/status/1603980822373089280
One on stage,one kwa crowd. Wajameni pic.twitter.com/Jxxh4OYwKO

— Miss smiles (@rodah_) December 17, 2022
https://twitter.com/iamjoseh_/status/1603972019548217346
Well, keeping up with the Samidoh's is about to get more interesting this festive season as the singer and his women all congregate in Dubai this week.
Here are some reactions from Kenyans:
Shiru Wa Nyina Mugo: Huyu mwanamke hajiheshimu,it shows mwenye alimpea hio nomination ya senator ni ngono tu walishiriki,, so indisciplined
Mercy Wanjiru: Huyu senator amezidi. Hata ka wewe ni second wife or side chic plz stick to your lane. Give 🐐 wife total respect
Dorah Havi: Wueh, Hadi mimi hapa nitakuchapaa vibaya sana. You can't disrespect me to this extent! Either way I pity Samidoh coz, Gikuyu augire atumia eerî nî nyûngû igîrî cia ûrogi.
Caroline Munene: This is how dreams are killed. Samidoh usipokuwa mwangalifu you will end up like others…..meanwhile hope wandahuhu alipata plot
Mary Ndungu Wanjiru: Do you guys remember Kamau wanjiru the marathon runner??? It all started like this. May he continue resting in peace.
Mwas Samuel: If I was samindoh…I would discipline both.they both his.hapohapo warundi Kenya n when am back both isolation 6months mpaka wapate akili
A few weeks back, Samidoh's wife Edday Nderitu stated publicly that she and Samidoh's rumoured USA 'mpango wa kando' Bernice Saroni were going to Samidoh's Dubai show.
Edday made the announcement while commenting on Bernice's Facebook post marking the end of Samidoh's recent tour of the USA. "Bernice Saroni Thanks so much gal for taking care of my hubby, you're such an amazing soul, thanks to God the tour was successful. Can't wait to see him we really miss him," she wrote.
Nyamu also saw an opportunity and decided to accompany her baby daddy Samidoh for the trip to Dubai.
The lovebirds flew out via Business class on an Emirates airline flight.
Karen, a mother of two, shared their air ticket after a fan sent her a direct message, claiming she was a homewrecker and that her baby daddy loved his wife Edday Nderitu.
The lovebirds have had their ups and downs in the recent past, ever since she publicly announced he is the father of his newborn, forcing Samidoh to accept responsibility and apologize.
In August, Nyamu accused Samidoh of physically assaulting her during a live Instagram session and also mentioned she was expecting baby number two with the singer.
News of Nyamu reportedly expecting Samidoh second child comes as a surprise.
She made public the fact that he was the father of the other child earlier this year, causing commotion and speculation on social media. It forced the musician to publicly come out and apologize for what he termed as a 'mistake'.
Nyamu has publicly stated she supports both Samidoh and his wife do business with the government.