On Wednesday evening, the third edition of the Women in Film Awards was held, announcing the 2022 winners in several categories in the film industry.
The dinner, which took place on International Women's Day, honored a number of well-known women with outstanding honors.
DR Susan Gitimu, Director of WIFA, who presided over the red carpet, praised the women nominees for their outstanding achievements in the film business, which has historically been dominated by men.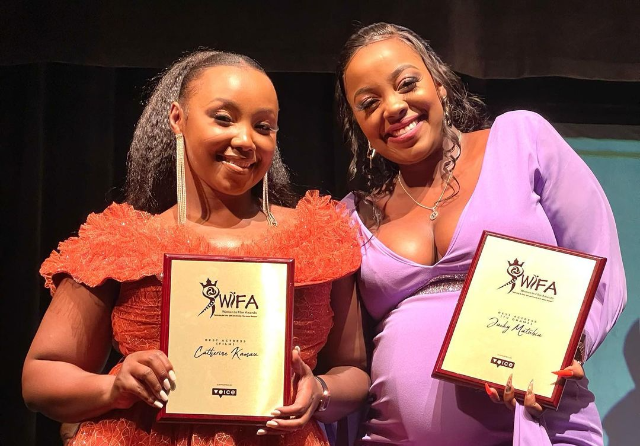 Here is a list of the star-studded line-up of winners of the 2022 Women in Film Awards, which includes everything from legendary actresses to digital content makers.
Best Actress(Film)- Catherine Kamau
Best Actress(TV Drama)-Jackie Matubia
Best Actress(TV Category)-Angel Achieng
Best Director (Film)-Dr Zippy Okoth
Best Director TV Drama -Fiddy Wambui
Best Assistant Director-Agnes Kola
Best Producer(Film)-Dina Mwende
Best Producer(TV Drama)-Catherine Wamuyu
Best Newcomer Producer(Film)-Riziki Amberose
Best scriptwriter(Film)-Oprah Oyugi
Best Scriptwriter(TV Drama)-Violine Ogutu
Best Sound Designer -Daisy Nduta
Best in Sound Recording-Diana Kairu
Best Editor-Faith Musembi
Best Set Designer-Nancy Aluoch
Best Animator-Mercy Chebet
Best Make-up Artist-Elizabeth Gatheru
Best Costume Designer-Ruth Maingi
Best Producer Documentary-Sheila Mulinya
Best Digital Content Creator-Lynn NGUGI
Most Influencial Woman-Dr.Ann Mungai
Best Cinematography-Gash Wanjira
Out of 100 nominees, only 22 got to carry a trophy home as they emerged as the best
Graced by a good number of celebrities, the event was sponsored by Kenya Film Commission, Multichoice and mymoviesafrica who sponsored two categories.
WIFA aims at bringing women filmmakers in Kenya together to provide a space where their talent can be equally recognized and celebrated.
Honouring their contribution to the growth of film industry by producing quality films.