Another female Kenyan pilot, Peninah Karanja, is creating waves in the aviation business and making history in the country, just few days after Captain Ruth Karauri also rose the Kenyan flag in UK after landing a Kenya Airways plane at the Heathrow Airport in London flawlessly despite storms.
Karanja, who was born and raised in Kenya, is the first female captain of Rwanda's national airline, RwandAir.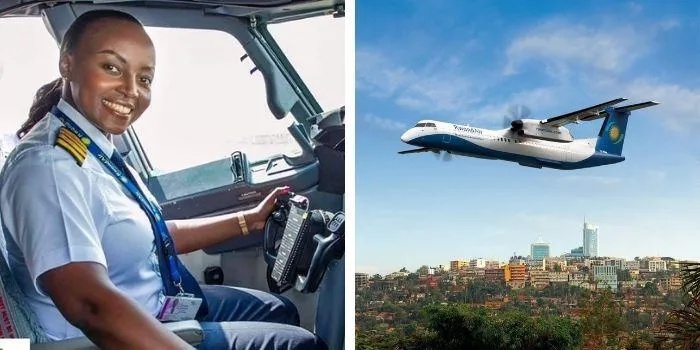 She excelled academically while attending Loreto High School Limuru in 2000.
In 2003, she took the Kenya Certificate of Secretary Education (KCSE). At the time, students attending university stayed at home for roughly a year while waiting to enroll in one of the country's few universities or schools.
READ MORE ARTICLES
The captain, on the other hand, chose to forge her own path. In 2004, she departed the nation for South Africa, where she enrolled in a piloting training at the 43 Air School in Port Albert.
Meet – Captain Peninah Karanja, RwandAir's first female Captain, currently commanding the Boeing 737NG. 

She joined RwandAir in 2012, after obtaining a Commercial Pilot License from 43 Air School, South Africa. 

Congratulations Peninah! pic.twitter.com/F1xbZRtZMe

— MK (@jmollel) March 6, 2022
Karanja finished school and obtained all of the necessary licenses to become a commercial pilot. She also received training in aviation security, air charter, aircraft maintenance, and flight operations.
She began her career as a pilot with RwandAir in September 2012, serving as a First Officer. She grew more conscientious about her work, impressing both her coworkers and her bosses.
As a result, she was promoted to captain on May 12, 2013, barely a year after joining the airline, making her the first woman in Rwanda to do so.
"All rise for our first female captain, Captain Peninah Karanja," RwandAir recently hailed Karanja.
Day 5 of the women in RwandAir series.

Today, we introduce Peninah Wanjiru Karanja — the pilot in command.

Happy fly day!#WomenInRwandAir #IWD2021 pic.twitter.com/t8zUs6kn1a

— RwandAir (@FlyRwandAir) March 5, 2021
Karanja has continued to be an inspiration to women in the aviation sector. Rwanda gained its first female Captain through her hands, Esther Mbabazi, who trained alongside her as her First Officer.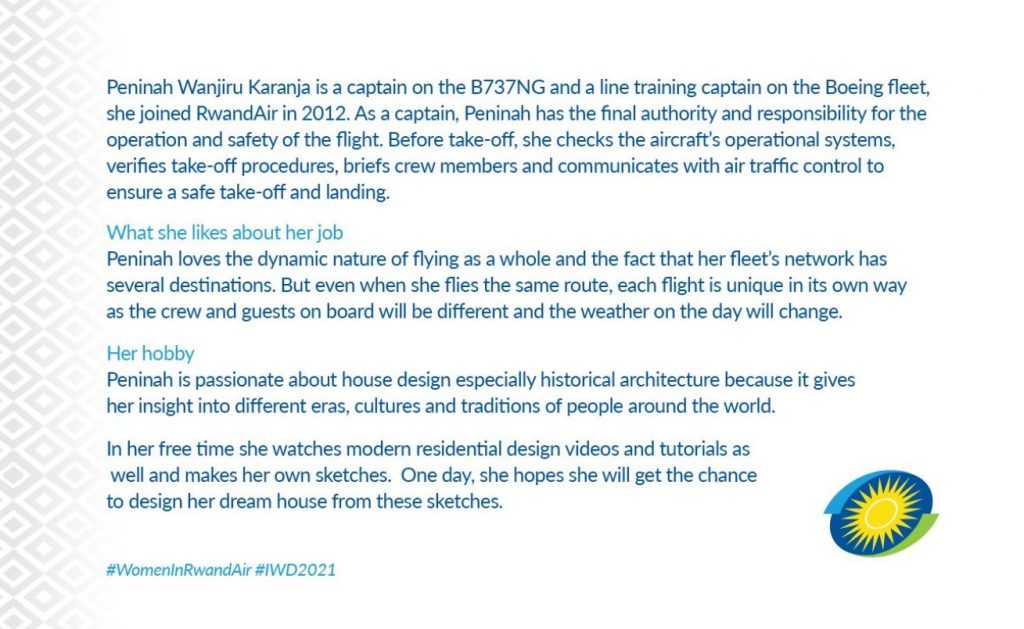 "Peninah Wanjiku Karanja as a captain on the Being 737ng and a captain on the Boeing fleet. As a captain, she has the final authority and responsibility for the operation and safety of the flight," her work profile reads in part.