Kanze Dena, the State House spokesperson, became a trending topic this week as she appeared on camera to defend President Uhuru Kenyatta's government on the rising high cost of living in Kenya.
Speaking a day after the increase in fuel and diesel prices, Kanze said the rising cost of living is a global phenomena, not just a Kenyan concern.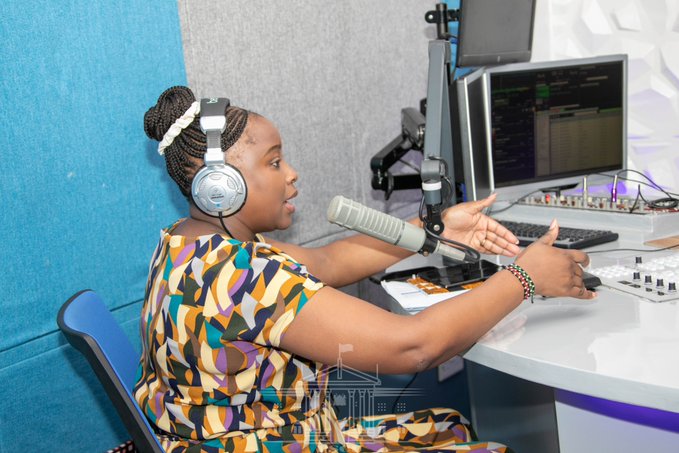 She told Radio Kaya on Tuesday morning that the problem is exacerbated by a number of external factors.
"The rising cost of living is not exclusive to Kenya, it is a global phenomenon fueled by numerous external factors among them the ongoing Russia-Ukraine war which has led to a rise in the global price of petroleum, which is a key factor of production," she said.
https://www.instagram.com/p/CbKW_78o63i/?utm_source=ig_embed&ig_rid=3158460a-08cb-483f-addb-3ed8ed89d201
This however didn't end well as Kenyans online, went away from the subject topic, to Kanze Dena's new look.
Here are some of the reactions:
Waiganjo Grace:
Watu wanalia na huyu ananona mpaka hakai yeye
Zippie Maggie:
Mnafanana na uhuru…
Mwangi Eriq:
Ashaanza kufanana na unye juu ya kusosi
Mor Mbithi:
Ushawai angalia mtu anakaa unamjua but hujui frm where…..hvyo ndio nimestruggle kujua huyu ni kanze😂Aki mapesa wewe
Iam Mercyvee:Inaonekana State house si kubaya juu ile design watu wanafura uko ogopa😂😂😂
___s.a.i.n.t_:
State house kuna mazuri.naona mwili inajipa😂
Verah Machuka:
Wakenya kubali tu niende statehouse ata kama ni wiki mbili angalau nitoke 2gb mpaka 35gb kuna mazuri Uko ndio maana hawaelewi bei ya bidhaa😢
Yung Kareemze:Mm ata sishangai uongo anaongea ni kunona inanishtua uyu ni kanze dena mwenye alikuwa na lulu?????😂😂😂😂😂😂😂
Murage Janet:
Ni nini hii wanavutaga state house,,macho nyanya Kila mtu, Kila saa😂😂😂😂😂must be nais 😌😌
Dottie Twodet:
Huyu ni kunona tu wananona na uhuru. Ukraine inahusu vipi bei ya chumvi, maziwa ya brookside, shuwaliii
Jossy5493:
Even oil in her body has raised…..it's a global issue indeed