Police have arrested Simon Ngigi, husband to an 18-year-old woman whose body was mutilated and dumped outside the GSU Recce camp in Ruiru, Kiambu County.
According to Ruiru Director of Criminal Investigations Officer (DCIO), Justus Ombati, the officers had retrieved mobile phone conversations between Ngigi and Wambui on Monday, January 17 – the day that she went missing.
Ombati noted that Ngigi had escorted Wambui to her place of work a few hours before 6am on Monday.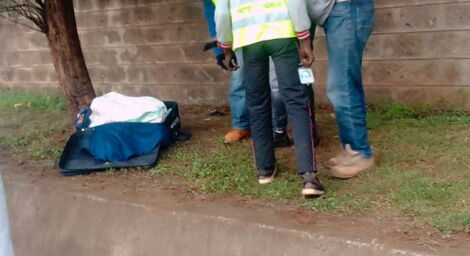 The Ruiru DCIO pointed out the peculiar behaviour exhibited by Ngigi after he failed to report his wife's disappearance to the police or inform Wambui's colleagues at work despite the fact that Wambui had failed to return home in the evening.
Ombati affirmed that Ngigi, who is in police custody, is being treated as the main suspect.
Wambui's family had urged the police to speed up investigations in order to unravel the truth behind the death of their daughter.  They have since transferred the body from the City mortuary to Nakuru awaiting burial on Tuesday, January 25.
The postmortem conducted on Wambui's body revealed that she had died of strangulation. Pathologist Dr Simon Omuok also indicated that the deceased was hit in the head with a blunt object.
Police took samples to conduct further investigations into the death of the 18-year-old who they suspect might have been sexually abused before being killed.
Detectives privy to the matter retrieved CCTV footage from her workplace which revealed that Wambui left for home at 8.30pm on Sunday, January 9.
Her husband told officers that he usually escorted Wambui to work due to insecurity in the area they lived in and he would also pick her up at the end of her shift. Wambui worked as a waitress at a hotel at a fuel station in Ruiru.
The CCTV footage showed Wambui leaving work for home at 8.30 pm on that Sunday but Ngigi did not pick her up on that day as was the norm.
Preliminary investigations had suggested that Wambui had been killed elsewhere and the body dumped outside the GSU camp.
"Police officers visited the scene and confirmed that there was a body of an unknown African female adult in her early twenties who had been stashed in a nylon sack and put in a black suitcase with the hands tied at the back and both legs as well tied with manila ropes," read part of the police report.