Tik Tok dancer David Moya has gifted Robai Lukresia, the Kitale dancing nurse, a bouquet of flowers wrapped with money in a thousand denomination and an executive treatment at his spa.
"Not many understand the kind of impact that comes with such act of kindness but for me I do because I do this on a daily basis…she deserve it," he said.
The Kenyan nurse stole the hearts of many after a video of her dancing for a sick child emerged on social media.
According to her, she say she drew her inspiration to dance from Moya.
In an interview with Mungai Eve, the gold-hearted nurse shared that she has been doing TikTok videos for a while
She noted that she did not know she would trend on Tik Tok as it was a normal day for her in the office.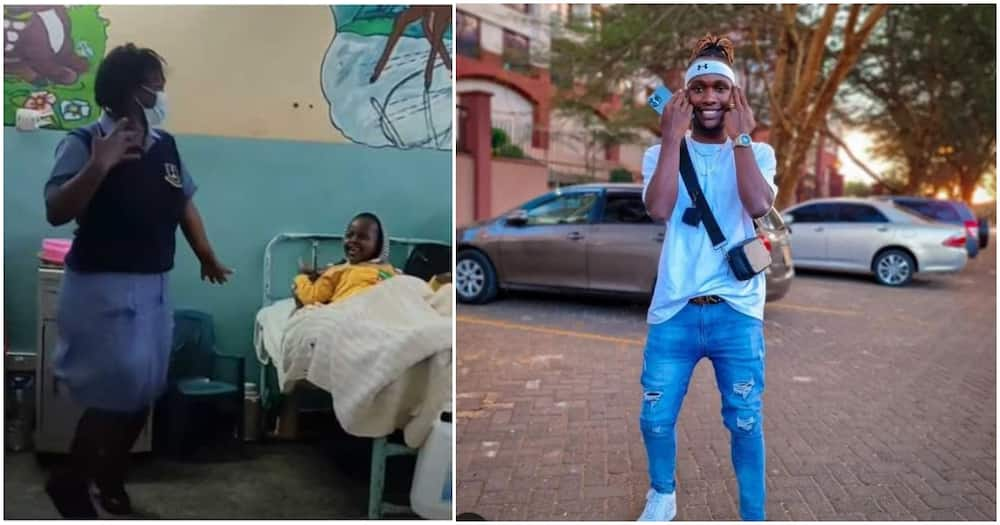 The student nurse is a lady after our hearts, and she noted her inspiration came from the TikTok star David Moya.
Lukresia said she follows him on TikTok and his acts of kindness pushed her to do what she does.
Since her clip went viral, the nurse has received praise, and now more blessings are coming her way after a tour company gifted her a three-day trip to Zanzibar.
According to information shared by Ndungu Nyoro, the kind-hearted nurse will enjoy a four-day, five-night, fully funded Zanzibar trip courtesy of Expeditions Safaris.
"It's four days holiday in Zanzibar for #DancingNurse Elizabeth Lukresia courtesy of Expeditions Maasai Safaris. Help me congratulate Elizabeth for the holiday treat," he wrote.
Lukresia discloses she is an orphan
Despite her positive attitude and wide smile, the KMTC student disclosed that she suffered a huge loss in her life.
"I am an orphan. My mum passed away when I was in Form Three, and I have never met my dad. I don't know anything about him. I wish she were here to see all that is happening in my life. But I still thank God for the outcome," she said.
Robai's supervisor Betty Naliaka described her as a good student while declaring that she has a bright future.