Award-winning singer Zuchu has given Diamond Platnumz, her boss and suspected lover, a new gold chain costing Sh1, 525, 482.80.
In a video that this writer saw, Zuchu could be seen giving Platnumz the expensive gift while revealing that it was her birthday present for her boss, who turned one year older on October 2.
The visage of Chibu Dangote is adorned with pure gold on the new chain gift.
"You will always be my hero," read the wordings on the said chain. Upon receiving the gift from Zuchu Diamond kissed his signee on the lips as a way of saying thank you.
Later Zuchu shared photos of the said chain with a caption that says; "A little gift for my boss, hero @diamondplatnumz, @shohrehcustomade it's the lips For me 😂😂😂Thank you DK Smile,".
Designing and customizing the new chain took at least two months.
A post shared by ZUCHU (@officialzuchu)
"@officialzuchu ameamua kuweka Standard Ya Juu kwenye Swala la Zawadi za Birthday, Baada ya Kumzawadia @diamondplatnumz Cheni Ya Diamond & Gold Yenye Thamani Ya Pesa za Kitanzania Milioni 29,375,000/= .
"Kwa Mujibu @lexleodrsmile , Zuchu ametumia Miezi miwili kutengeneza SUPRISE hii kwa @diamondplatnumz," read another post from WCB Wasafi.
Diamond replied; "Maneno hayawezi Elezea shukran yangu kwa hili Zuuh… nisije nikatereza kuandika Waandishi wakapa kutoa Story bure🚶🏻‍♂️….. ila jua nakushkuru sana, na siku zote utaendela kuwa pale! @officialzuchu 🔥🚀 Cc",.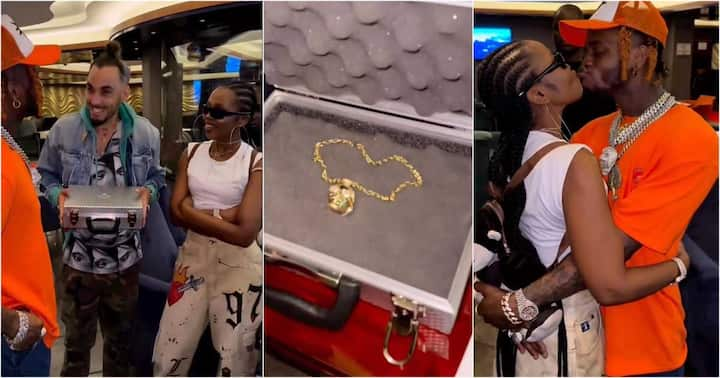 In May 2022, Zuchu was again in the headlines after gifting Diamond a new pair of Off-White Odsy-1000 Arrow-motif sneakers.
A pair of Arrow-motif sneakers retail at Sh72, 411 which is equivalent to $623 as per Farfetch.com an apparel website.
On August 7, 2021the WCB President splashed a whooping Sh. 5, 238 595 million ($48,000) on a new pendant bearing his nickname Simba complete with an image depicting the head of a Lion.
He used his Instagram page to flaunt the new Gold and Diamonds #HalfManHalfLion pendant.
The Jeje maker went on to warn that artistes should avoid putting on fake chains because they risk getting cancer.
"Gold and Diamonds💎 #HalfManHalfLion Pendant!….stop wearing fake chains young boys…there's cancer ✌🏼….USD 48,000…Tsh! 111,360,000 for de pendant.🕊
Aye ye ye! Naondokaje sasa??? kwanza nawahi nini wakati nimeachwa???? #FRESHI @icejewlz 🙌🏼"shared Platnumz.