Wangui Nguri, also known as Aunty Jemimah, is a well-known actress and radio personality.
A source who spoke to Nairobi News said that the well-known presenter is expecting a child but has been keeping it quiet from the public.
That is, until a video of her hosting a guest on her Gukena FM show surfaced and showed off her protruding stomach.
Her social media posts have mainly consisted of throwback pictures from her past and shots and videos that show her from the chest up. Unless she uploads images of her complete body, she usually wears clothing that covers her stomach.
Nearly a year has passed since she miscarried a baby girl at 34 weeks in September 2021.
Aunt Jemimah described how draining being in sorrow was.
I've struggled with grief this past year. I've literally been struggling to get through some days and some months. There have been good ones! I've learnt to enjoy the good ones to the fullest.
And there's also been bad ones! They've been so bad! I've cried and wondered so much what my child would have been.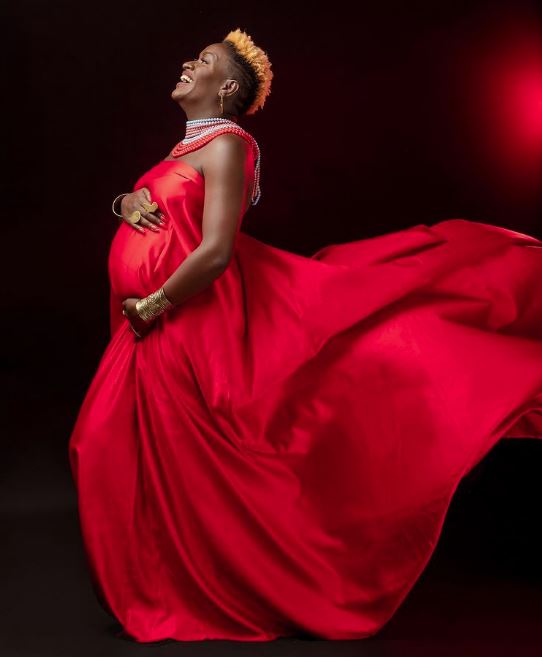 Every month is a question of what milestone would she have conquered this time? Yet no one answers. Sept 29th is still so fresh and I miss her so much! So to sum it up, grief has been really exhausting! It is tormenting my soul," she wrote.
Her grief was not made easier by people who blamed her for the loss by exposing her pregnancy on social media where many people aren't happy for others and can cast an evil eye on someone enjoying blessings.
This backlash came after she posted photos of her baby bump shoot and images from her baby shower.
As the backlash grew, Aunt Jemimah chose to respond to them, calling them out for their ignorance.
"No woman holds a baby shower wishing death upon herself or her child. Every pregnant woman's dream is to carry the baby to term and go home with a healthy baby.
Showing off your baby bump is not wishing death upon your child or yourself. I was told that it was because I showed off my baby bump and went for a beautiful baby bump shoot that I lost a child.
Because of the ignorance you have and because of the thirst for likes and comments, you have decided that we wish that upon ourselves.
That is tiresome!
Conceiving is a miracle.
We have women who are struggling to conceive. My heart goes out to you. Carrying a baby to term is also a miracle and to all the women who have lost babies in the process, I am so sorry.
The other biggest miracle is going home with a healthy mother and baby," Aunt Jemimah said in 2021.
These sentiments would, therefore, explain why she has been hesitant to show off her pregnancy like she did the first time around.