Fight between former Kiss 100 radio host Andrew Kibe and controversial singer KRG the Don gets hotter as the  businessman hits boychild advocate below the belt.
KRG the Don appears to be intensifying the beef by creating a post about how Kibe used to be happily married in his recent post addressed at the US-based media figure. He continues on that Kibe should not disparage love and mislead adolescents.
"I have to post this hata nikiwa vacation… Yani kumbe Kibe was happily married at some point in his life. I now see why it hurts you when you see two people loving one another! You should look for someone else to love than criticize everyone's relationship," he posted.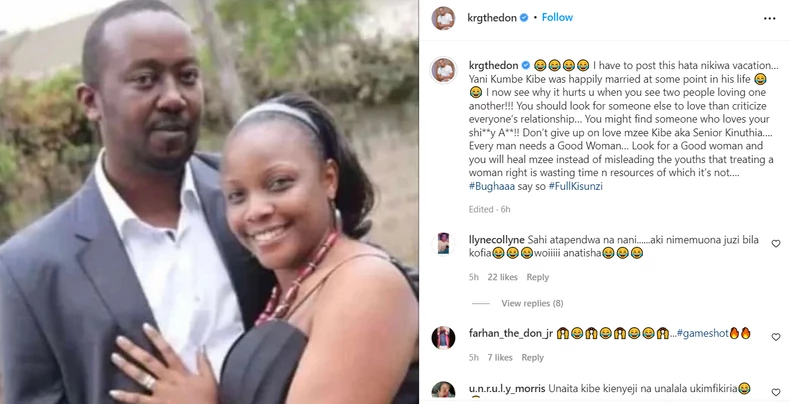 This comes after KRG made some severe claims against Kibe a few days ago. Kibe, according to the musician, is a failure who is abusing his platform to negatively impact the youth.
"Kibe huyu akona kesi apa, akona defilement case apa imeshika moto huku…evidence ziko na tuko tayari, me ata niko tayari ku pursue hiyo matter mpaka mwisho so akae tu huko America. Kibe maisha ilimlemea akiwa youth, akakuja akakua young adult then akakua old man,"  the Don stated.