African King of Comedy, Eric Omondi, seems to have finally found love after unsuccessful 4 seasons of Wife Material where he was looking for a wife to marry.
On Wednesday Morning, Eric shook the internet yet after he introduced his new bae in his intagram page.
Eric was celebrating his girl's new birthday and he shared a video of him surprising her with a brand new Vitz. In the post, Eric described his love as resilience and patient. He appreciated how she contributed to his brand and his company's (Big Entertainment) growth
His lovely post read, "We got @l.y.nn.e something small for her birthday. Your resilience, patience and work ethic is unmatched. You have made me and Big Entertainment soo proud!!! We hope this little gift express our gratitude. The sky cannot be your limit. Shoot the stars because you are the star. Happy birthday."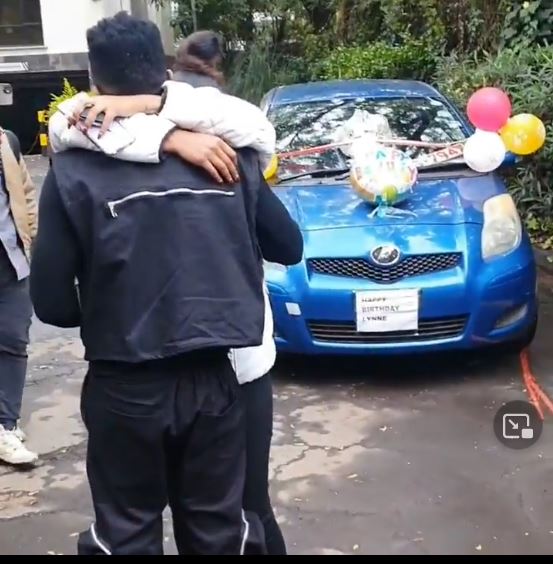 The birthday girl's response was sweet as she could not hide her smile and shock as Eric presented the surprise.
Mkenya Leo News did it its due diligence to research more about the girl. Her Instagram profile says that she is a model, a brand influencer and a content creator.
However, Netizens are unsure if she is really Eric's girlfriend or another of Eric's online stunts.
https://www.instagram.com/p/Cbt4SgdARxp/
Eric's close friend and fellow comedian, Edie Butita commented, "she deserves the car bro. Looking forward to the gender reveal. I Heard the news, we are proud of you the family is growing."
His other friend, Mc Antonio joked, "mimi namlete USB iko na ngoma za mugithi."
Eric has a reputation of faking incidences for entertainment purposes. Recently he tricked the whole country that he was expecting a baby with singer Miss P, only for them to release a song.
We are just hoping that Eric's love is real this time, and we wish him and the new bae luck.