Award-winning actress Jackie Matubia announced that she has been discharged from the hospital. Matubia took to her social media accounts to thank God and Komerock modern hospital for her quick recovery.
Her post read, "We thank God for healing we are going home. Than you @komarockmodern we were well taken care of."
The expectant actress had caused panic among her fans after she shared a video of her and baby daddy, Blessing Lungaho, settling in the ward yesternight.
Earlier today, Matubia had announced that she had been admitted at Komarock Modern Hospital because of Braxton Hicks, also known as false labor.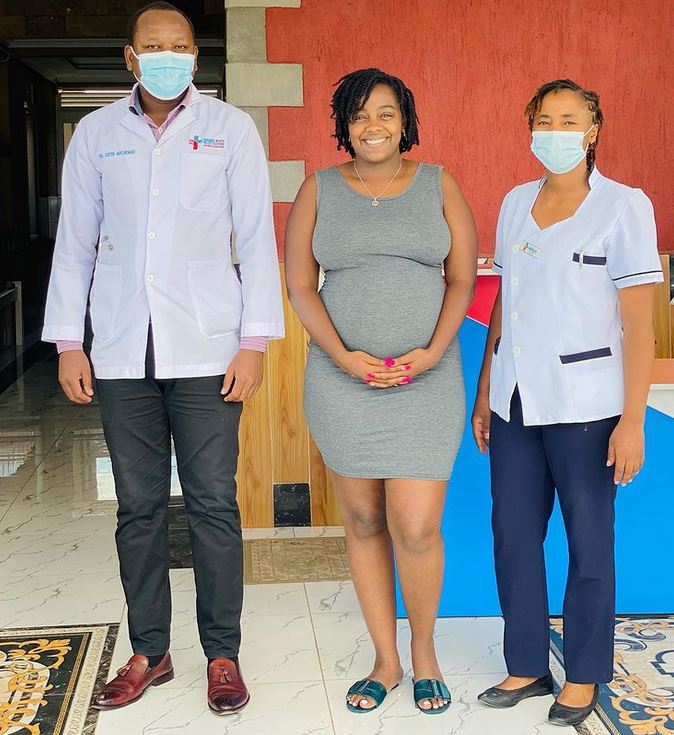 She explained that she had been experiencing pain in her lower abdomen for quite some time, but she ignored it thinking it was a non-issue. She said that the pain persisted, and she was forced to call her doctor, Dr. Nyamu, who advised her to go to the hospital for a serious check-up.
Luckily for her, her condition was not serious. She revealed that the tests showed that the baby was fine and her cervix had not dilated. She also revealed that she was under medication to prevent the cervix from dilating before her due date.
"They checked baby's heart. The baby was fine. That is when I realized I was experiencing Braxton Hicks, which are false labor. The first thing they had to check is if my cervix had opened, which thank God it hadn't…… I thank everything is fine. I thank God I am feeling better and hopefully I am going home today," said Jackie.
Jackie and Blessing shocked her fans after they revealed they were expecting a baby together. There were speculations that the two were dating based on their roles in the Zora drama series, where they played as dysfunctional lovers. They, however, denied the rumors until in a pregnancy photoshoot that they shared in their accounts.
Jackie has a daughter from a previous relationship that ended years ago.