Kenyans on social media have been awestruck by Thee Pluto's new residence. The content producer posted a video of his new social media home.
He danced around the home while carrying his daughter Zoe.
The exterior of the new house is white, with orange highlights at the front door. It has a contemporary flat roof design.
The compound is surrounded by a white wall. In the back, a worker was spotted cleaning the pavement.
The video was uploaded on Nairobi gossip's Instagram page, and followers responded in a variety of ways:
"Kwisha!!! Ngori za akina Mzee Ojwang' na Them Mushrooms hazikuwa in vain. Wasanii Sasa wanaishi vile wanafaa."
"I'll clap for others until it's my turn🙌congratulations 🔥."
"Congratulations 🎊 Bro has been working hard since 2019."
"Mashallah…huyu msee ametoka mbali @thee_pluto you deserve it🥂congratulations."
" I think it'll reach a point where all content creators will own the most mansions in Kenya.!.Good for them thou.❤️."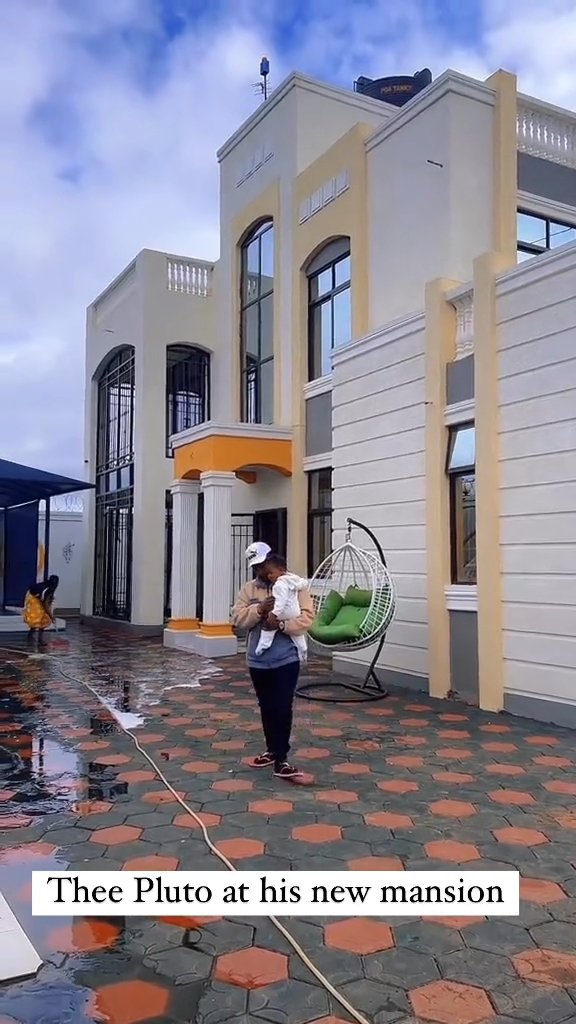 In a past Q&A session with fans on social media, he disclosed that he had rented an apartment in Kilimani and parted with not less than KSh 100,000 each month before moving out to his new mansion, which he unveiled in one of his YouTube videos.
Last year, he unveiled the 5 bedroom mansion which was beyond amazing. Although the content creator did not disclose its location nor incurred construction expenses, judging from the video, its value was close to or even more than KSh 10 million.
Thee Pluto, is a famous Kenyan YouTube sensation known for loyalty tests: in which he mostly moves around campuses and streets, testing the level of faithfulness amongst couples by checking through messages that arouse suspicion on their phones. This has earned him the moniker 'relationships sanitizer.'
His journey has been promising, and he has managed to amass thousands of fans across his social media platforms.
The content creator is a true reflection of success and perhaps the Jack of all trades. Aside from making YouTube videos, he is a musician. He is also the CEO of a real estate company.
Other than the Multimillion Mansions Thee Pluto owns high end motor vehicles.