Yesternight, Singer Judith Nyambura alias Avril took to her social media, sharing images of her visibly bruised while calling out her baby daddy J. Blessing for beating her.
The 'Kitu Kimoja' crooner wrote, 'Unikome mbwa hii,' without providing any further context. After becoming aware of the post, astute fans went crazy with their reactions.
Later on, she would remove the post as soon as it started a social media conversation, but it didn't stop the unrelenting response that kept growing.
The mother of one responded after some social media users, as is customary, made light of the alleged assault:
"Going through comments and I'm in utter shock. This is why people never report this sh*t, post this sh*t. Cause y'all make people actually want to kill themselves after all they've been through. Have a laugh…enjoy…bye."
Avril forgives baby baddy J. Blessing for beating her
The singer has since gone public expressing her forgiveness to the beater, while also asking Kenyans to forgive him.
Here's Avril's long post:
"I have always been an extremely private person. I would never talk about anything i'm going through even if i'm being tortured by it.
My heart is so heavy that I had to tell the world my business. Yes I saw the ridicule about me deserving of everything I have through in my lifetime and i'm sure there will be more ridicule, but I also saw the outpouring messages of love and support.
I forgive you J, please find it in your hearts to forgive him too. Everyone is deserving of forgiveness in this life.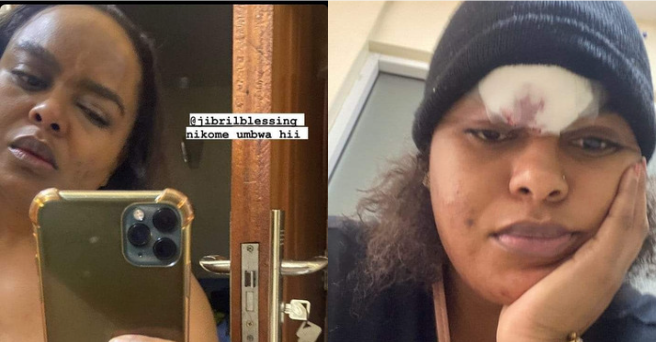 I acknowledge that our 7-year relationship and our journey as parents to an amazing little boy has faced challenges, and there have been conflicts that escalated into fights.
We recognize the need for change and are committed to seeking help and learning healthier ways to communicate and resolve issues. Our mutual goal is to create a more positive and supportive environment for each other, fostering understanding and growth. 
No it's not clout .. I would be the worst kind of human to joke with something so heartbreaking to so many men and women all over the world. no it's not me looking for sympathy, it's just me being human and deeply understanding that everyone is deserving of humanity especially in these times where we should all be kind to one another regardless of whether you receive kindness or not, you should strive to give it, and give it abundantly. Be kind to one another."
While the pair never publicly confirmed their relationship, they have been romantically linked for years and are parents to a son.