KRG the Don and Diana Marua raised mixed reactions on the internet for the way they interacted a few months ago.
Although Bahati attended the party, he was reduced to being a mere observer as KRG and Diana enjoyed a good time together.
Despite the backlash, Bahati kept his peace and didn't speak on the incident but it seems that he had been stewing on it for some time as he addressed it in a cheeky post a few days ago.
"Someone tell KRG that's Where to Place your hands while taking photos with Someone's Girlfriend / Wife 😂😉😃 
Thanks to this amazing Couple @mcjimmiekajim and @wambui_kajim for Starring on my New Song #HUYU 🌷❤️😊," Bahati captioned a photo.
The post obviously caught KRG's attention who downplayed the advice, noting that he will not apologize for what happened in July when he partied with Diana.
"😂😂😂😂😂 aaaaaiiiihhh Dada zangu mimi nawashika mabega anytime. I will hold my sister's shoulders anytime n I'm not apologizing for it 😂😂😂😂" the father of 3 commented replying to Bahati's friendly banter.
This is the second time that the 'Mambo Imechemka' singer is addressed the scandal that emerged back in July.
During an interview with Mungai Eve at the time, the wealthy musician said that he was not disrespectful and that Diana and Bahati were his long-time friends.
"I trend so many times for different reasons. You know in the club there is a lot of business that happens. Whispering in someone's ear labda muziki iko juu sana and everybody knows, maybe you guys didnt know that me and Bahati and Diana we are friends for so many years."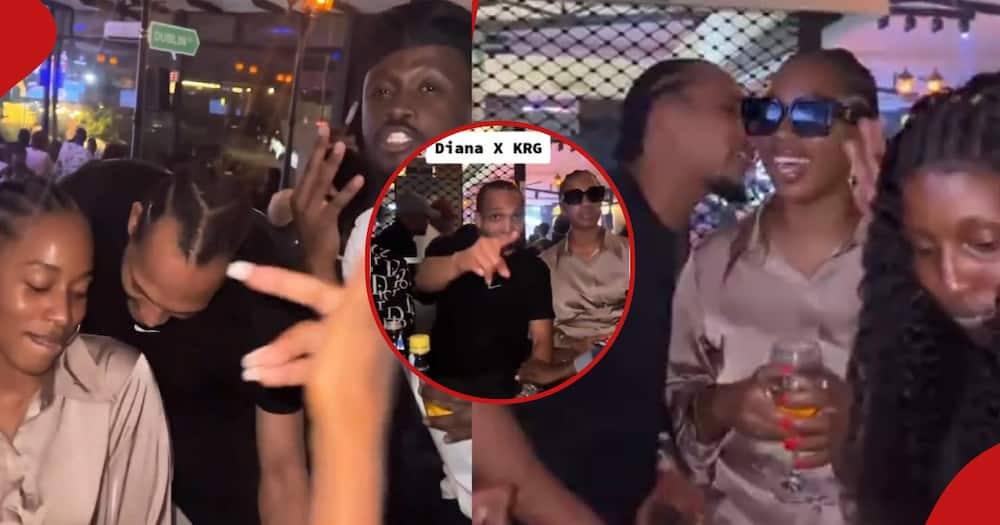 He even said that he was the Godfather of their first child, Heaven.
"We are good friends, we were having fun we were dancing, you know, she is like my sister. When I am with my sister I can hold you, I can hug you, the only thing I cannot do ni mambo ya ile sasa ya mzee kabisa kabisa , lakini kushikana ku kufurahia hata tuimbe pampoja that one you can do with your sister."
Kuna watu wengine ni wapumbavu tu, ndio wanadhani labda nikikushika hivi sasa umekuwa bibi yangu, si ni ukweli?"
He blamed the harsh reaction to his playfulness with Diana to a lack of proper upbringing, "Sasa unajua sasa kama mumelelewa muko na upungufu wa mapenzi kwenu munaona kama mtu akikukaribia anatyaka kukufanyai vitu mbaya. Lakini haimaniishi namna hiyo," he urged KOT.