Veteran musicians, theater acts, poets, and fiction writers were among the creatives honored at a glitzy event last Friday to honor the county's sports and arts figures.
The ceremony, dubbed the Hongera Awards, was organized by the Ministry of Sports, Youth, and Arts, led by Cabinet Secretary Ababu Namwamba.
The celebration gathered together iconic acts whose work has impacted the expansion of the business since the 1980s, bringing back nostalgic recollections of the miles the creative industry has gained over the decades.
Among the musicians celebrated included Benga musicians Bosco Mulwa and Ephrahim Maina, gospel singers Japheth Kassanga and Jemima Thiongo, theatre veterans Margaretta wa Gacheru, John Sibi Okumu and David Mulwa, film makers Judy Kibinge and Raymond Ofula as well as fiction writers David Mailu and Kinyanjui Kombani.
The event brought together 1,000 formidable faces that graced the country's screens in the late 70, 80's, 90's as well as the new breed of icons in sports and creative art.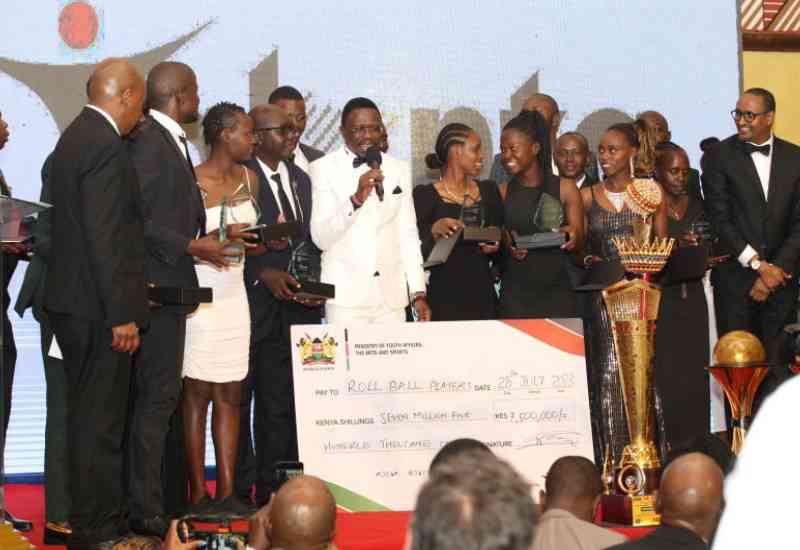 Speaking during the event, Namwamba said it was shameful for a country to ride on the glory of its artists while they live in squalor.
''Last year I travelled to Kericho to lay to rest one of our sportsmen who brought glory to this country. I felt embarrassed to celebrate his death when no one acknowledged him in life,'' Namwamba said.
He said his Ministry had focused on restoring sanity in the creative sector as he emphasized the priorities that had been put in place to streamline the music industry whose players have in the past been riddled in controversy at the expense of the content creators – the singers.
''We have to revamp the industry so that it can pay well to aspire parents' advice to their children to take it as a long term career. Through the Talanta Hela Initiative, the Ministry decided to consolidate and manage the industry in order to unleash the full potential of artists," he said.
The CS further said the government will identify, nurture and reward all performing artists through the Identification and monetization of talents, a reaffirmation of the commitment made by President William Ruto during the Talanta Hela Initiative launch about a month ago.
He noted that through corporate and international donors, the Ministry will forge a beneficial sponsorship to support local talents.
''As a country that prides itself as a sports nation for many years we have never come together to celebrate our heroes. It is unbelievable and criminal and we are going to remedy this,'' Namwamba said.
''We have to revamp the industry so that it can pay well to aspire parents' advice to their children to take it as a long term career" [Courtesy, Jonah Onyango]
The CS said it is high time to appreciate every talent and be given due respect it deserves, adding that parents should learn to give children space to thrive in art as a full time career.
''Sports and Creative arts is an avenue for everyone across the country. We strive to create a conducive environment for growth, where every citizen can participate in and benefit from our nation's prosperity,'' he said.
The CS noted that even with their attempts to turn a fortune through music, many have left stage without anything to celebrate about.
Namwamba said the artists are a reminder of the spiritual power of art and taste from the previous generations passed to the current and future.
''When I see the legends, it reminds me of the time when they inspired us, entertained and even consoled us. They only represent a fraction of the art we witnessed in the past,'' he said.
Others honoured during the ceremony includes spoken word artists Kennedy Odongo and Sitawa Namwalie, actors Davis Mwabili (Inspector Mwala) and Elizabeth Wanjiru who is popular for her role in Kenyan TV drama series Mother-in-Law), fashion designers Akinyi Odongo and Evelyn Mungai as well as renown film maker David Campbell. Singers David Amunga, Simon Kihara, Sarah Kimunyi and Colonel Mustapha were too among those feted.