Azimio leader Raila Odinga has accused Kanini Kega and Sabina Chege of orchestrating illegal Jubilee takeover.
Speaking at Kalonzo Musyoka's prayer meeting at Yatta Farm, Raila said Jubilee Party will remain in Azimio coalition no matter what.
"Jubilee ni yetu, tulilipia mahari. Eti hawa ni officials wanataka kutoka kuingia pande ile ingine. Jubilee haitoki kwa Azimio," Raila said.
Addressing 2027 elections, Raila said it will not be possible for anyone to rig themselves in.
"We want to make rigging a costly enterprise that nobody will ever again think of rigging elections in this country. There will be no peace without resolving this matter," he stated.
On the controversial Finance Bill 2023, Raila said:
"The Finance Bill 2023 is an insult to Kenyans. People are already struggling to make ends meet, and now they (gov't) are adding taxes with a lot of impunity. There will be no taxation without representation."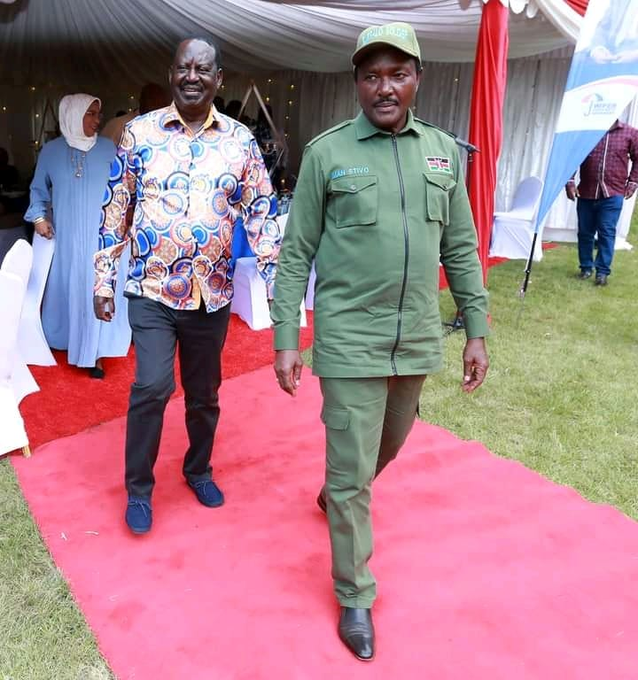 Wiper Party leader Kalonzo Musyoka had invited Azimio la Umoja-One Kenya coalition leadership to his Yatta farm in Machakos for a thanksgiving prayer.
In what is seen as a 2027 political strategy, Kalonzo has also invited all leaders elected on a Wiper ticket in the region.
"We have been invited by the leader of the Wiper Democratic Movement to a meeting in Yatta. So we will start in Yatta as Azimio family and then on Tuesday, we will make a major political statement," Eugine Wamalwa, who read a statement on behalf of the coalition during a press conference on Wednesday, May 24, said.
During Jubilee Party National Delegates Conference on Monday, May 22, Mr Odinga said the onslaught against Jubilee is against the spirit of multi-party democracy.
"In this, the regime is walking on a well-trodden path. Kenya Kwanza is working on an arrangement similar to that of 1964 that saw Kadu walk across the aisle and join Kanu without its MPs having to seek fresh mandate."
"Kenya Kwanza wants to ensure Jubilee as a party does not continue to exist on this other side of the aisle," said Mr Odinga.
He said President Ruto wants Jubilee dead in the same way Kadu did after which Kenya Kwanza will try to enact the train of events that saw Kenya become a de-facto one party State from 1969 before being made a de jure one party state in 1982.
Kenyans, he said, need to appreciate that the desire to kill alternative forms of political organisation is the initial step on the path to a full blown dictatorship.
"Next will be a freeze in people's participation and representation in political affairs of the nation," the ODM leader asserted.
Mr Odinga said Azimio embraced the bipartisan talks to secure a good deal for Kenyans and if the deal will not be forthcoming, "Kenyans can be sure we will not pursue vain dialogue."
He dismissed claims that he is seeking for handshake with the Dr Ruto.
"Those who want to take over Jubilee are the same ones who live in mortal fear over their positions and political future. They are the ones living in the nightmare of a handshake nobody is interested in," he said.
He accused the President's camp of destroying Jubilee "not because it is weak but because they recognise Jubilee is a force now and could be a bigger force and a threat in years ahead."
He challenged party rebels to resign and seek fresh mandate instead of rocking the ship from within.