The whistling queen, Priscilla Wa Imani, recently said in an interview with Nairobi News that Classic 105 broadcaster Maina Kageni neglected to send her the fare she had sought.
Priscilla expressed her unhappiness with the given meal during one of her taped films, appealing to Maina for assistance.
In response, Maina Kageni claimed to have provided her money and even suggested a date.
Priscilla Wa Imani, on the other hand, expressed her gratitude to Maina for sharing her video despite not receiving the requested cost.
She stated that when Maina shared her films, her life changed for the better, and she admitted that the presenter played a key role in some of the positive changes she encountered.
Priscilla also thanked Nairobi Governor Johnson Sakaja for recording her whistling challenge on TikTok, which led to its viral success.
Priscilla Waimani has been trending since her video whistling loudly at various places went viral.
She is a gospel singer although no media house in Kenya has ever played her music.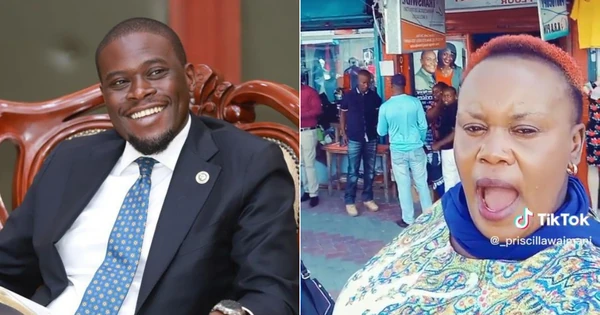 Priscilla already has two albums out.
She also credited her viral success to her hubby, whom she said gave her the freedom to be herself and do what she loves.
Here's what you need to know about the whistling lady.
1. She is married. Priscilla is a wife to a man she loves very much, he supports her whistling habit.
2. She is a mother of three; a boy and two girls. None of them has her character according to her.
3. Priscilla is a businesswoman. She owns a shop next to Laikipia University selling utensils etc.
She also hawks those household goods.
4. She is a Nyahururu native
5. She learnt whistling as a very young girl.
Then she noticed her whistling attracted customers when she was in the market. It encouraged her to do more and record her antics.
6. She dropped out of school, but was encouraged to return to class by her husband to do KCPE and KCSE.
7. She loves social media and is on all platforms.
8. Her Tiktok account was opened by a cousin in January 2023. She had no clue what the video app was all about, and how to use it.
9. She had a short stint in politics, but it failed and she had to rethink her life decisions.