Milly Wa Jesus has pleaded with Kenyans to come to the aid of her younger brother who recently held and pomp and colourful ruracio.
Mily begged Kenyans to help fundraise for her brother so he can do a white wedding which she said is coming up soon.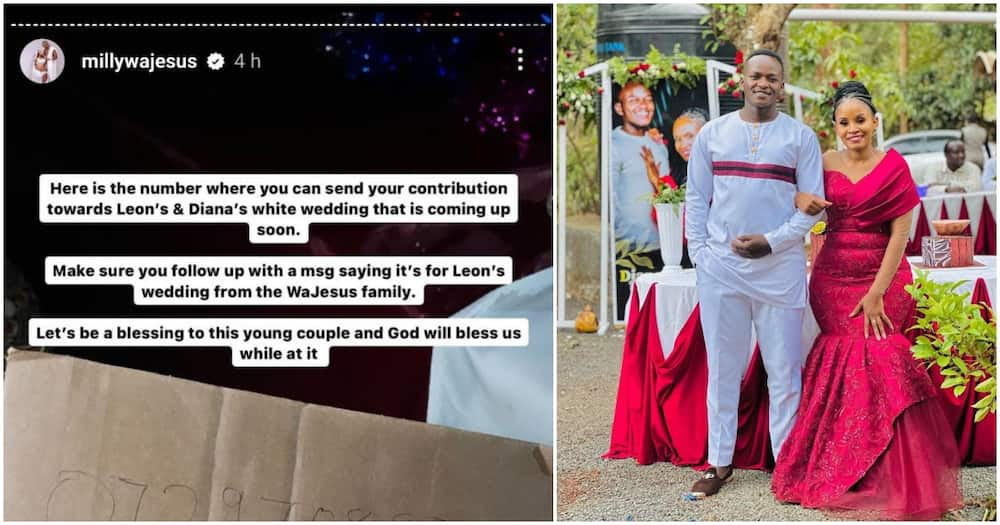 "Let's be a blessing to this young couple and God will bless us while at it," she said.
Recently, The WaJesus family were excited as they got to witness their younger brother propose to his long-term girlfriend and the two held a very pomp ruracio attended by many friends and family members
"So proud of my brother @leongracechild congratulations on your proposal." Milly WaJesus wrote.
"Congratulations to @leongracechild for this great milestone. Thank we feel so blessed to be an inspiration not only to our fans but also to our immediate family that #marriageworks." Kabi WaJesus noted.
The WaJesus family is known to be vocal and passionate on matters concerning marriage, and they remarked it was more than a celebration for them.
Milly WaJesus asked any young person to reach out to her, for proposal ideas.
"By the way, if you don't have a proposal idea just come to us tukupatie, si aty akikula githeri anaskia ring kwa mdomo anauliza what is this and then you ask will you marry me, apana! Lazima ikuwe kitu poa, ata kama itakuwa on a budget," the mother of two stated.
Her brother (Leon) noted that he decided to make the proposal public as he intends to encourage and challenge young men to value marriage.