Actress and comedienne Nyaboke Moraa has showed off her adorable grown sons while relaxing with them.
""Nisingelikuwa gaidi hawa wangenihamisha…The rate at which kids grow is just mind-blowing…I love my boys in Jesus name," she said.
The thespian is a single mom of three sons and one daughter; Marie Achieng, 16, Ethan Omar, 11, five-year-old Benjie Otieno, and the last born Hawi Nyakundi aged three.
Nyaboke Moraa became a single mother of four after two heartbreaking divorces with her baby daddies.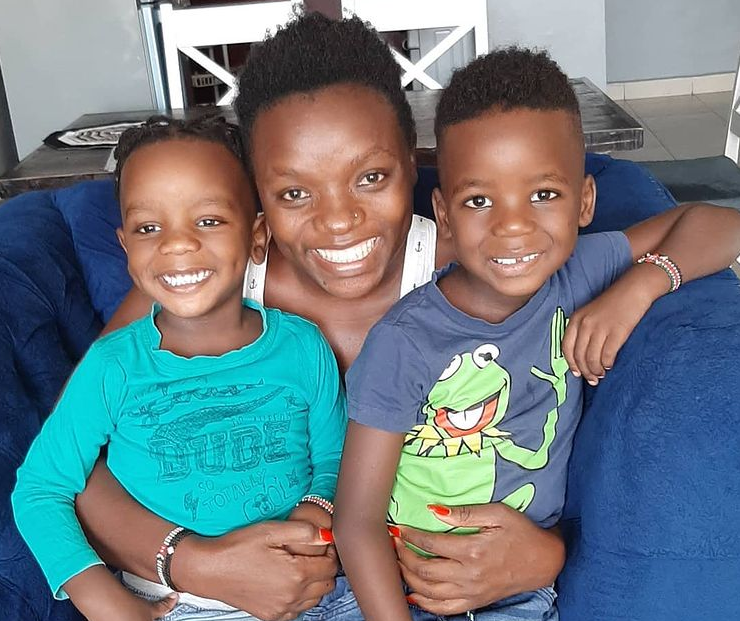 In a past interview, she narrated how she became a single mother of four at just 36 years.
"I got married straight from high school, then divorced seven years later after two kids. I was in another relationship for another seven years which gifted me two sons, but that too ended in 2018. I have been a single parent since," she said.
Her third and fourth borns were sired by the legendary late rugby coach Benjamin Ayimba
As previously reported, the YouTuber left her fans surprised after introducing the father of her firstborn daughter for the first time.
On June 20, during Father's Day, the mother of four shared a photo of her baby daddy and her daughter, praising him for being a great father.
"To the father of our only daughter. You are a super dad,I appreciate you for the sacrifices you make for our children. I could never ask for a better daddy for them because you are the best daddy….may God continue filling your cup. Happy Father's Day Jakisumo," she wrote.
Kids being labelled bastards
Months ago, the former Tahidi High Actress ranted after her children were labelled 'bastards' and 'chokoraas' by her late baby daddy Benjamin Ayimba's sister.
In a lengthy post, Moraa addressed Mo saying that she has always been the bigger person when it came to attacks on her children but she's had enough.
"A single woman with a child,never married has the audacity to constantly call my babies bastards and street chokoraas.A woman who was helped raise her own child unlike me who raises hers alone.I was always told to be the bigger person,to calm down and oh understand she has kichwa mbaya…….I always kept calm,but now again calling my kids the same?Can't she just respect even her own sibling????"
The actress further claimed that her children have been constantly verbally abused by Ayimba's family and she's not taking it anymore.
"Hii ujinga ya Mo let her talk imefika mwisho.Ujinga ya kunitukania watoto sitakubali kabisaaaaaa.Mimi pia ni kichwa mbaya nani na sai sina akili……Ngalia tu hawa bastards wangu…ngalia tu vile ni warembo. Then you expect God to just be silent and bless you,chunga sana mwanamke Mungu sio kijana na sio rika yako.These insults you always give kids will eat you one day.Wale wa Mo take it easy pia nyinyi niwacheni kabisa,you don't know,you just don't!!!"