The Uhuru Kenyatta-appointed National Police Service commanders have all been removed from their positions.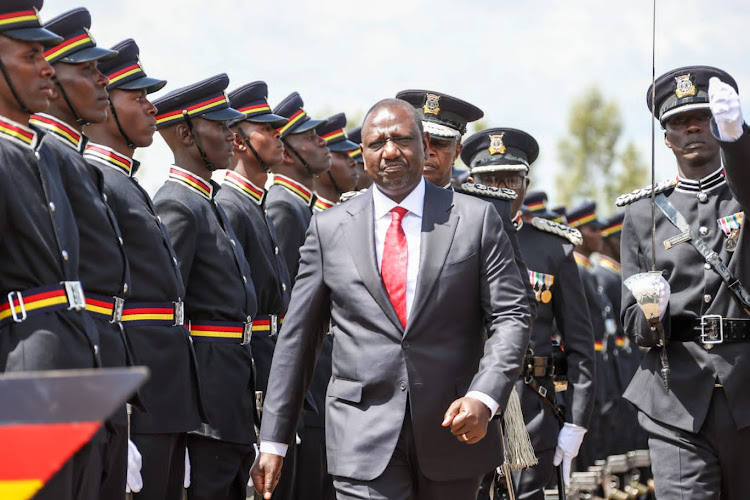 The removal of teams that had been appointed by President William Ruto's predecessor aligns with the purging.
The NPS and the National Gender and Equality Commission (Ngec) had positions open as of Friday, thus the head of state formed new panels to look for new hires.
Following a degazettement of President Kenyatta's appointees who had held prominent posts in the last months of his presidency, the most recent action was taken.
Having been chosen by Uhuru in 2019, the outgoing members of the police commission have served for just under four years.
They are Eliud Kinuthia who has been serving as chairman, his deputy Alice Otwala and commissioners Lilian Kiamba, Eusebius Laibuta, Naphtaly Rono and John Moyaki.
The recruitment panel for the police commission has Arthu Osiya, Joyce Nyabuti, Gilbert Mutembei, Monica Mururi, Ryamond Sangsang Nyeris, Joyce Mutinda and Mbeti Mchuki.
With the selection panel in place, it appears the lot quietly resigned to pave way for fresh blood.
The replacement can be viewed as part of the new administration's determination to reform the police service and delink it from the control of political establishment.
Days after he was sworn in, the President made the Inspector General of Police the sole accounting officer for the service, defanging Interior PS who had been the one with power to determine expenses for the police service.
He also had former police chief Hillary Mutyambai resign to pave way for recruitment of Japheth Koome, as well as resignation of Director of Criminal Investigations George Kinoti for Mohammed Amin.
But Ruto's sustained onslaught on the police service can also be viewed to be stemming from his beef with the top bosses of the service whom he accused of being used by the Uhuru regime to target him and his cronies.
The gazetted selection panel will carry out the recruitment processes and formulate a list that would be forwarded to the President for eventual appointment of six commissioners.
The panel will select among themselves who becomes the chairperson.
According to the NPS Act, the panel has seven days to advertise the vacancies in the papers and call for applications.
Upon conclusion of it recruitment process, the law requires the panel to recommend three persons to be appointed by the President as chairperson of the new commission. They will also recommend eight people for the President to choose from as members of the body.
Upon receiving the shortlisted names, the President will have 14 days to make his pick and forward them to the National Assembly for consideration.
For Ngec, Ruto gazetted Mary Kimonye, Reuben Chirchir, Oscar Eredi, Alice Waguthi Kinyua, Mary Mwiandi, Steven Oundo, Mucha Mlingo and Michael Munene.
The current members of the commission include Joyce Mwikali Mutinda, Muriithi Chomba Munyi, James Okoth Koyier, and Caroline Naikenda Lentupuru.