After his tale went viral, Meru Governor Kawira Mwangaza offered a position to Samuel Meeme, a two-degree holder who had tarmacked for nine years.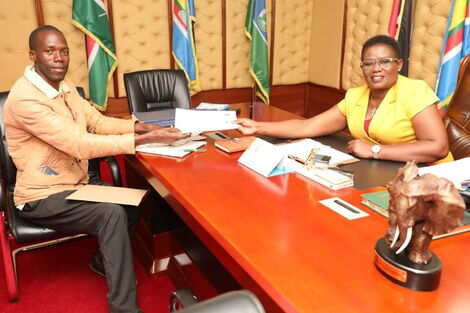 After Meeme applied for a job while toting a placard, he became a trend on Meeme for the majority of January 26.
Consequently, on Friday, January 28, the 33-year-old met with Mwangaza at her offices after his tale was featured on Kenyans.co.ke and other media outlets.
In a statement, Kawira acknowledged the bachelor's degree holder's trip and promised to save him from his predicament.
"A gentleman named Meeme Samuel Makamba, whose picture went viral showing him seeking a job in the streets with a manilla-inscribed plea pinned to his back, can finally rest assured of job security.
"Despite Samuel having 2 Bachelor's Degrees and CPA certification, he has been unsuccessfully seeking gainful employment for the last 9 years. I met with him today and promised to give him a job," read the statement in part.
However, the governor did not indicate whether the job would be in the county government or another organisation.
Meeme graduated from Chuka University in 2014 with a Bachelor of Commerce. He also holds a degree in Education.
Additionally, he is also a Certified Public Accountant (CPA) Section 2.
In an interview with Kenyans.co.ke on January 26, Meeme indicated that he had begun teaching at a school after leaving campus.
However, since he did not have a Teachers Service Commission (TSC) number, he lost his job in 2016.
He later joined Mount Kenya University for a Bachelor of Education degree programme with the aim of getting the mandatory number so as to get back to class.
"The first thing I did after graduating was applying for a TSC number for I longed to be back in class teaching and mentoring students.
"When I got the TSC number, I went back to my former school only for the principal to tell me there was no vacancy," he stated.