How much money does Kenya Airways pilot make per month?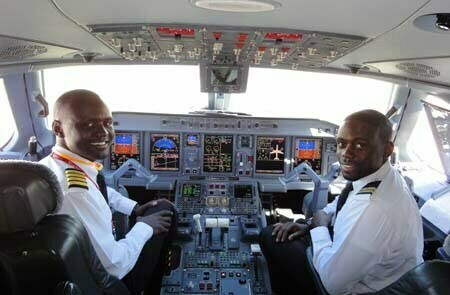 You may discover a lot of searches like this on search engines. To begin with, KQ was established on January 22, 1977, following the dissolution of the East African Community and the closure of East African Airways (EAA).
The airline's fortunes have been on a downhill trajectory, and its status as the "Pride of Africa" is swiftly evaporating. Over the years, KQ has endured numerous pilot strikes and significant losses. KQ's website indicates that the airline has a total of 32 planes.
In its 51 destinations, KQ yearly carries more than three million passengers. There are 43 of these locations in Africa.
KQ was completely owned by the Kenyan government until it was privatized in April 1995.
Now a public-private partnership, the company. With the following stockholders listed (according to Wikipedia): the Kenyan government owns 48.9%, KQ Lenders Company 2017 Ltd. owns 38.1%, and KLM owns 7.8%
The desire to revive the business and return it to profitability drove changes at the top of KQ. As managing director and CEO of Kenya Airways Group, Sebastian Mikosz was appointed (CEO). Allan Kilavuka would eventually take the role of Sebastian.
Michael Joseph, a former CEO of Safaricom, was chosen to lead the airline in 2016.
Allowances and salaries of Kenya Airways pilots
KQ pilots have downed their tools on several occasions to demand for better enumeration. The carrier has a total of 414 pilots and 38 planes that are operational. According to a Collective Bargaining Agreement (CBA) entered between Kenya Airline Pilots Association (Kalpa) and the Government that was to take effect in 2018, pilots maternity cover was to be upped to kes200,000 from kes40,000. Inpatient cover was to go upwards of kes4 million from kes2.7 million. Outpatient cover was pegged at kes200,000 per family from the previous kes40,000 for not more than six individuals.
Pilots account to 45 percent of the carrier's wage bill.
Salary of KQ Pilots
Captains-Captains earn an average monthly salary of Sh1.6 million ($160 000)
Gross Salary for pilots flying Boeing-Sh483,350
Pilots flying Embraer-Sh407,916
House allowance for captains-Sh36,000
First Officers-Sh30,814
Pilots flying outside Kenya-Sh20,000