Eunice Nekesa Lusweti put Kenya on the map in the 1970s before Julius Yego learned javelin on YouTube and went on to smash the world record.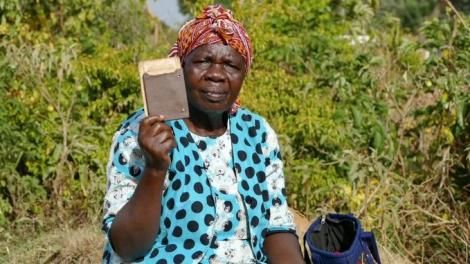 Few people remember this amazing woman, who dropped out of school yet continued to pursue her aspirations via athletics.
What followed was a meteoric rise to prominence punctuated by a handshake with the President, followed by a disappointing fall that is all too familiar among our unsung heroes.
Nekesa was born in Misikhu village, Bungoma county, in 1936, and just like any other child growing up, she hoped that life would give her only the best it has to offer.
As unpredictable as it is, life unsettles you and shakes you up. You can never be sure about it. It's like betting, tying your money onto something you are not sure will earn you a profit or loss.
Speaking to the Nation Media Group , she recounts how she made Kenya proud back in the days, and how life has been since her heyday.
In 1962, Nekesa enrolled to Kuywa Primary School. However, due to lack of fees, she only went as far as standard three. This did not demoralise her, as she decided to concentrate on extra-curricular activities. She played netball, shot put and javelin, using sticks as makeshift javelins.
In 1978, Nekesa moved to Mombasa in search of sports opportunities. She accessed the Mombasa Municipal Stadium and, luckily, the government was just then selecting candidates to represent the country in the All African Games.
Nekesa tried and, incredibly, she ended up doing better than any other contestant in the trials. Being a 'bush girl', as they called her, her success rubbed the officials the wrong way because they had their favourites who, no matter what, had to make it to the competition.
This led to the cancellation of the first selection since an 'alien' had shown up and stolen the glory of their selected few. The selection was set up for another day and this time round, Nekesa ended up doing better than she did before.
A Mr Kimaru, now deceased, intervened to get Nekesa on the list of participants proceeding to Kisumu. She went on to be the best performer and later made it to represent Kenya in the All African Games in Algeria.
Representing Kenya in 1978 were Henry Rono, who won the 3000m steeplechase in a time of 8:15.82 min. While Rono was flying the country's flag high, Stephen Muchoki won the world amateur boxing championship in the light flyweight. Stephen Moi, a boxer, punched his way to clinch a gold medal in the middleweight category.
Nekesa, being a first timer, stole the show in javelin by setting an African record of 51.58m, beating a US-based athlete of Cameroonian origin Agnes Tchuinte (49.16m).
This made her the first-ever sportsperson to bring home a gold medal in the javelin category, way before Julius Yego made history at the 2015 World Championships with a gold medal-winning throw of 92.72m.
Founding Father Mzee Jomo Kenyatta called a banquet for our heroes at State House, Mombasa. They made merry and had the privilege of shaking his hand.
Sadly, that very night, Mzee Jomo died, and all the promises he had made to our sporting heroes went with him. Nekesa, now 80, survives by selling water to put bread on her table.