Kenyan celebrity Diana Marua and her adopted son Morgan Bahati have shared a cute photo on a plane.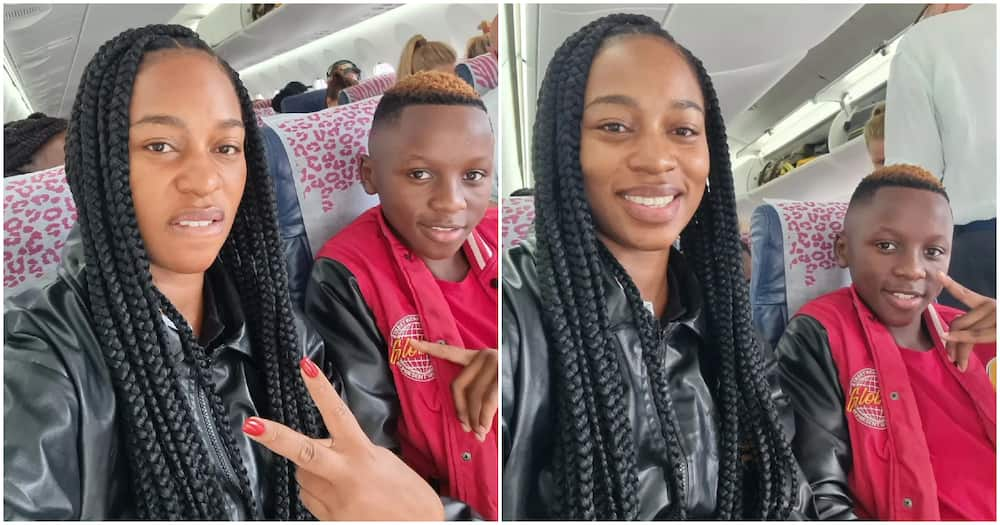 The mother was en route with her family, including her husband Kevin Bahati to Malindi for a family holiday.
"Let's fly away and create beautiful memories @morgan_bahati ❤️✈️," she captioned.
Diana shared the lovely mother-son moment with Morgan as they sat next to each other on the plane.
YouTuber Diana looked gorgeous without her facebeat, with her braided hair looking stunning and fresh.
Her face radiated joy and gladness as she took the selfie with Morgan, Bahati's adopted son.
Morgan also looked fashionable with his dyed hair and clean haircut as he enjoyed his flight with mum Diana.
Fans wish Diana safe flight
Diana's fans were in awe at the two as they looked admirable together and headed to the comment section to share their thoughts.
waithera3416: "Wow, we can't wait to see your destination ❤️❤️❤️❤️our mamaciraaaa $Mr dimples."
ericonzalz: "Good is good, am also praying to reach there one day for I have never been even inside the airport."
shavivashqviva: "Mimi ni chukulie tu number ya huyo mzungu ako hapo kando."
richwrld_pacbro: "Wow looking good Diana B and Morgan ❤️❤️❤️ Safe journey #Blessed fam."
_gathoni_sta: "Nice flight ✈️ we will miss you and we love you."
real._.breal: "Wow looking good mamaciraaaaa ❤️❤️❤️love you sweethearts ."
lilsdylan: "Wow, mothers love. Love you aunty Dee and Morgan. Sending love safe journey."