Nyambaria Boys High School in Nyamira County may be the best school in the Kenya Certificate of Secondary Education (KCSE) tests in 2022.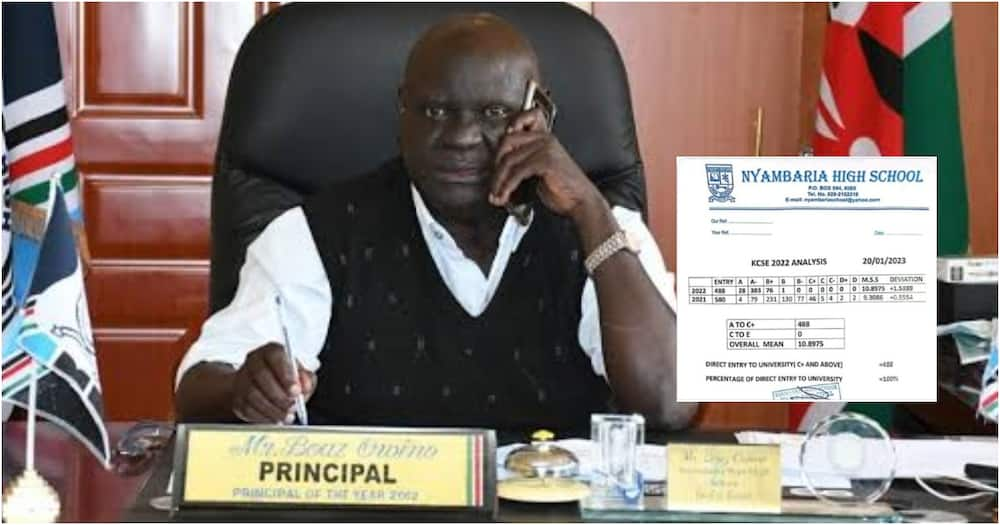 The school achieved a mean grade point average of 10.89, outperforming the traditional academic behemoths that had dominated others for years.
This year's exams were taken by 488 students at the institution.
28 candidates received straight As, while 383 finalists received an A- on average.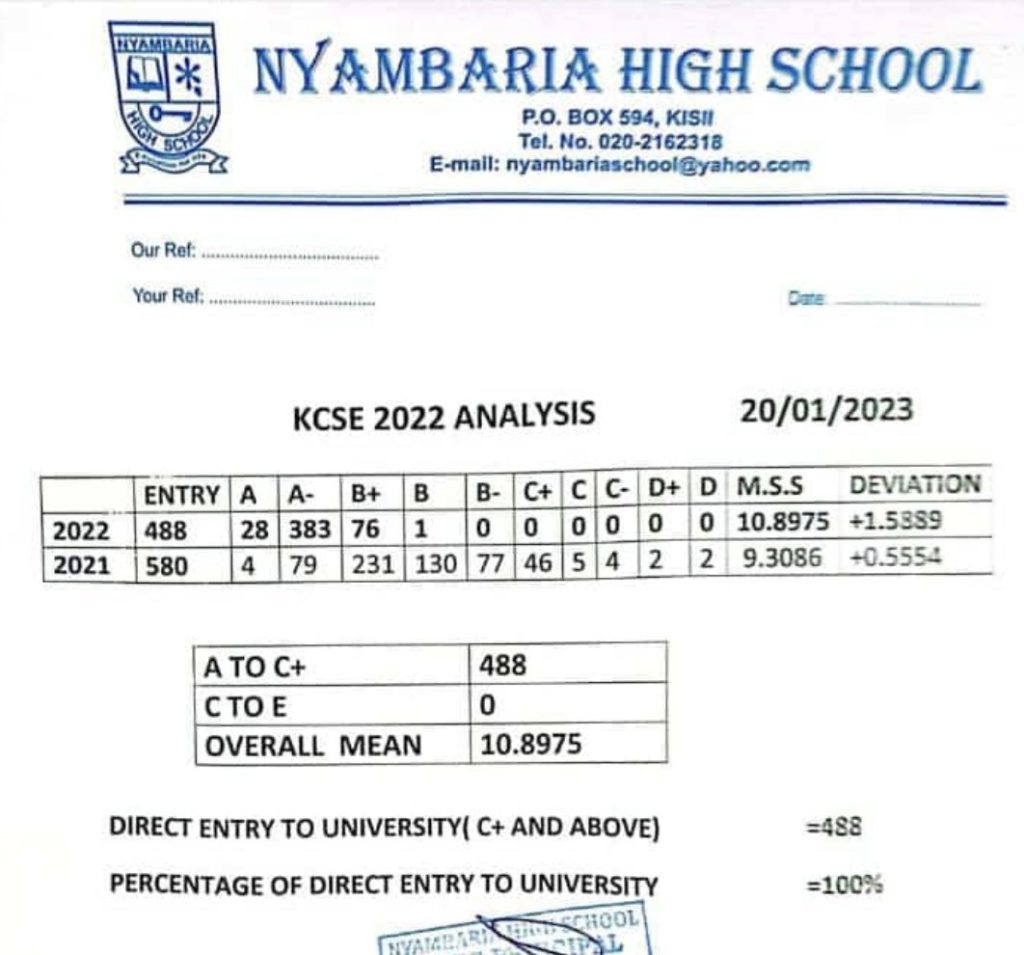 Seventy-six individuals received a B+ (plus), while only one received a B. (plain).
The outstanding success has been attributed to Boaz Owino, the school's principal who formerly led the illustrious Maranda Boys High School.
FUN FACT: The guy behind thee amazing Nyambaria High School KCSE results is non other than Mr Boaz Owino who was poached from Maranda High School by CS Matiangi. Mr Owino is the Principal who took Maranda High School to position 1 nationwide. Hapa Kisii peeps got lucky 😁🤗🫡😁 pic.twitter.com/ERUvnKodcO

— Karen Wanjiku HSC (@WanjikuHSC) January 20, 2023
Here are some of the comments from Principal's former students praising him:
William oyugi: This man ogwal is something else…was principal got agulu sec school..just two years it was the best district school in luo nyanza…then maranda took him 2008…am proud student.
Opus Dei: Institutional success is ALL about leadership. Boaz Owino was well cut out for his job. A realist, disciplinarian and feared none. He leaves a stellar record in his tour of duty. Maranda started wobbling immediately he left.
Felix 0lieko: Because of him, I'm somebody in the society of today. Kudos!!
Beside Nyambaria High School, Mosocho's Cardinal Otunga also thrust itself among the top schools thanks to the exemplary performance of its candidates.
The institution situated in Mosocho, Kitutu Chache South, Kisii county, registered a total of 330 candidates who wrote the national examination.
All the candidates attained the university entry grades, with the last one scoring a minimum grade of B-(minus).
Candidates totalling 28 scored straight As, with a majority falling in A-(minus); those who scored A-(minus) were 201.
Ninety-seven candidates scored B+(plus), with three of them securing B (plain).
Speaking to the press after the over-par performance, the school's principal Chrispinus Owino attributed the great feat to the cooperation between the teaching staff and the students whom he said were overly disciplined.
"We are very happy about the results and I want to thank the Almighty God. We worked as a team last year and I want to appreciate our teachers and students. It was team work. The students we had were disciplined and we invested a lot in them. We are taking Cardinal Otunga to where it belongs," said Owino.
The principal also lauded the partnership among all the stakeholders in the school, including the board of management, parents, chaplaincy and officers from the Ministry of Education, among others.