According to the Sunday Nation, former president Uhuru Kenyatta is anticipated to step down as chairman of the Azimio la Umoja One Kenya Coalition council in order to focus on his peace initiative.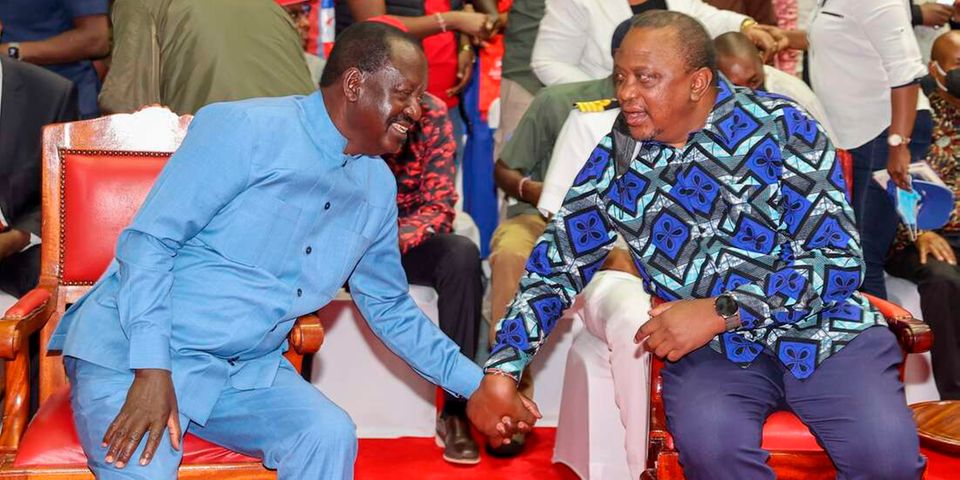 In order for Mr. Kenyatta to legally resign from his position in the coalition of parties that supported the presidential campaign of former Prime Minister Raila Odinga in the August elections, the alliance wants to call a meeting of the top organ.
We learned from conversations with coalition officials, including his longtime adviser David Murathe, that Mr. Kenyatta has already stepped down from his role as coalition leader to focus on leading the peace negotiations in the region, as given by his successor, President William Ruto.
His planned resignation has also been informed by a legal requirement that he should not hold any political party position for him to draw his pension.
Mr Kenyatta has until February 2023 to resign, according to the Presidential Retirement Benefits Act, 2003. The pending resignation comes in the wake of major pro-establishment defections of some of Mr Odinga's key allies.
The defections and Mr Kenyatta's set resignation is likely to occasion a major political setback for Mr Odinga, who is currently trying to align his troops to form a major anti-government movement.
The coalition, which brought together at least 26 political parties, formed two organs – the Coalition Council and the National Coalition Executive Council (NCEC).
Ahead of the August 9 polls, Mr Kenyatta was named the chairperson of the council – the coalition's top decision-making organ – while Mr Raila Odinga was named the party leader and a member of the council.
Mr Murathe, the NCEC deputy chairman and also the Jubilee Party vice chairman, confirmed the planned resignation of Mr Kenyatta from Azimio.
Mr Murathe, a close ally of the former president, told the Sunday Nation that Mr Odinga will take charge of the coalition moving forward.
"We will be having a meeting very soon where he will formally resign as the chairman of the Azimio council. Obviously, you cannot have two drivers steering a bus. This vehicle called Azimio now has one driver and that driver is Jakom (Mr Odinga)," said Mr Murathe.
He said Mr Kenyatta has decided to focus more on his new role as a peace ambassador in the region.
"He is now above local politics. Going forward, everything is Jakom and the Azimio system. The council will sit and make a decision about who takes up the position but the overall leader of Azimio is now Jakom and there is no ambiguity about it," said Mr Murathe.