Otieno Lewis Omondi Glen and Fwaro Makokha Robinson are the best pupils in the 2022 Kenya Certificate of Primary Education examinations.
They scored 431 marks out of a possible 500 marks.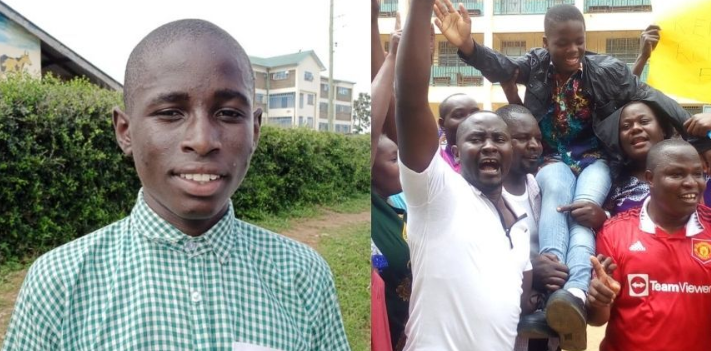 Glen from St Peter's Mumias Boys Primary School and Robinson from Christ the King Primary School in Bungoma topped 1,244,188 other candidates who sat the examination.
While releasing the results Education Cabinet Secretary said a total of 9,443 candidates scored 400 marks and above, 307,756 scored between 300 and 399 marks.
At the same time, the CS announced that Form One selection will be completed by January 16, 2023.
The Education CS said the early completion of the selection exercise is aimed at giving parents adequate time to prepare for admissions to secondary school.
"The Ministry is determined to place the 2022 KCPE candidates in secondary schools as soon as possible to give parents adequate time to prepare them for the admissions to Form One," said Mr Machogu.
Top special needs child scores 419
Education CS Ezekiel Machogu has said the top special needs child that sat the 2022 KCPE exam scored 419 marks.
Machogu was releasing the KCPE exams on Wednesday at Mitihani house.
The CS said seven special needs students scored above 400 marks representing 0.29 per cent
He said this is an improvement compared to last year where only two managed to score above 400 marks.
There were 296 candidates whore scored between 300-400 marks representing 12.2 per cent.
Some 838 special needs students scored between 200-299 marks representing 34.6 per cent.
A further, 1,270 special needs students scored between 100 -199 marks representing 12.2 per cent.
Only six students scored between one to 99 marks.
Machogu said they hope to see a 100 per cent transition to high school.
He said overall performance improved compared to last year.
The CS added that the mean average performance was between 200 and 299 marks.
He said he is very impressed with this year's performance as it was an improvement.
A total of 2,417 special needs students sat the exam.