Radio Jambo presenter Mbusii Deh has said he met his wife at a school in Kapsabet, where he had gone to act set books.
Mbusi who miraculously joined the media profession at Ghetto Radio in Ngara after he was picked from the streets, has been doing quite well on his shows attracting huge listenership across reggae enthusiasts mostly the youths who love not only his reggae mixes but also his street slang he frequently uses while on job.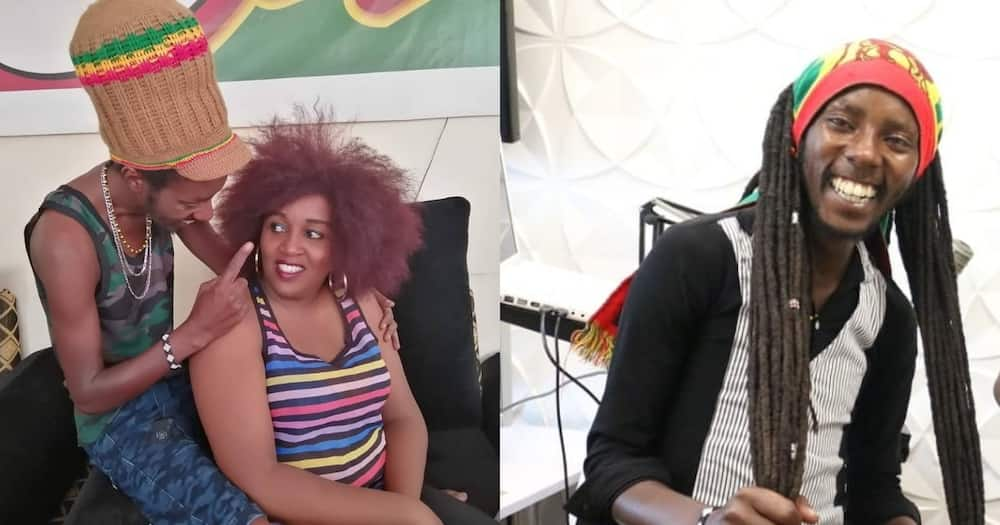 Mbusi the sheng master whose rise to fame has been so steady has also had a chance to host Who is Who in this country including President Uhuru Kenyatta who is also his die-hard fan.
Radio Presenter Interviewing President Uhuru Kenyatta
Githinji Mwangi, popularly known as Mbusii Deh while speaking in an interview at Churchill Show also revealed that after completing Form Four, the two met again after two years, and Mbusii said they lived in a mabati house in Korogocho slums, where they welcomed their first child.
"She liked me, and I told her maliza shule ukuje tusurvive (finish school first and come we start a family)," Mbusii said in an interview with Churchill Show.
The multi-talented radio personality disclosed he later invited her to Korogocho slums, where he was living, and she fell in love with him.
Mbusii said they lived in a mabati house, and his wife got pregnant with their first child.
"Alitoroka kwao akiwa na ball na wazazi hawakujua. Ikabidi awache shule kidogo (She ran away from home when she was pregnant). After giving birth, we took care of our baby, and later I sent her back to school," he narrated.
The Rastafarian said his wife's parents reported to the police that he (Mbusii) had kidnapped their daughter, but they later agreed to let her go.
Mbusii is now a father of three, Sandra, who is in Standard Eight, Stacey in Standard six and lastborn Melanie in Standard two.
"My wife and kids inspire me alot. Whatever I went through, I don't want them to go through the same. Everyday I always pray to God to help me provide for them," she said.