Grace Mwai, a gospel singer, has fooled her fiance Hiram Kamuhunjia into believing that she is expecting.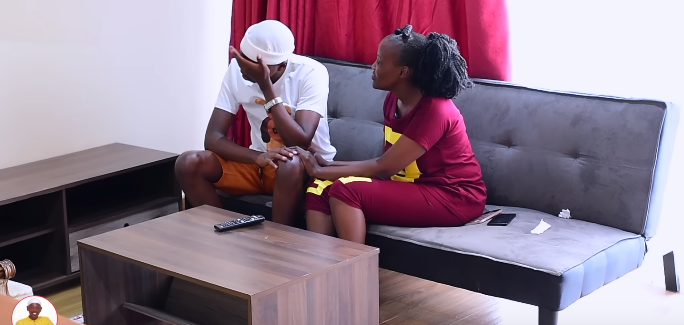 The gospel singer booked them a vacation and waited for the ideal moment to pull the trick, which she did flawlessly.
She prepared the camera and awaited the ideal opportunity to approach Kamuhunjia.
He discovered more and more clues about their living room, bringing him closer to the truth.
Shock and dismay were written all over his face when he discovered the last one, which stated that Mwai was pregnant.
He added that he had been anticipating the news for so long that he had been unable to control his tears.
Recently, the two lovers had admitted that they prayed both before and after twa twa.
Mwai reassured him, saying that since it was good news, they should celebrate rather than let her cry.
After the YouTuber calmed down, she urged him to discover another clue behind the table, and that's when he found a document writing saying it was a trap.
Kamuhunjia sobbed vehemently as he pondered why his lover had sacrificed himself for him, particularly regarding such a delicate subject, knowing that he had always yearned for a child.
Here are some of the reactions from Kenyans:
Little Brian: This December you will not cry because someone hurt you but because God has answered your prayers. Happy New Month.
Helen Njuguna: You don't joke with such matters in a marriage 🤔🤔🤔
Danny Micheal Ndirangu: For me I hatre with all my heart, pranks kwa njia ingine nika itheru, remember even the bible say itheru ni mehia, so be careful wengine haupendi ujinga ka hiyo, kwanza mimi
Jyn Jyn: I thought kamuhunjia is grace Mwai,s son…so they are couples🙄🙄😏
OG Mapendo: Thats not my problem.. My problem is "my friend borrowed the hustlers fund in the morning not knowing he had FULIZA..it has been fulizwad. Safaricom wakaredeem bonga points kujilipia deni ya OKOA JAHAZI"… Hustler is not talking, anaangalia tu simu analia😭😭😭
Ruth Wahu: But i remember sometime back huyu Grace was heavily pregnant, what happened 🤔
Nyabonyi Nancy: Atleast the wife will become pregnant officially now that she has proved that she's not married to a boy
Ochieng Yada Samuel: When men were men, it was imaginable to see a man cry for any reason apart from very close death, which was still unforgivable. but nowadays, children became men and they refused to let go their emotions. what a generation of men who cry over pranks?