According to his younger brother Adil, rally driver Asad Khan is not actually deceased.
After a domestic altercation in which his girlfriend, rally star, was injured, Asad is in critical condition at the High Dependency Unit at the Avenue Hospital in Nairobi.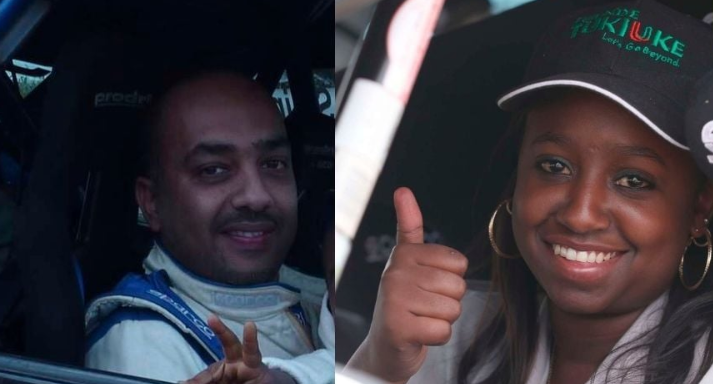 On December 14, 2022, rally driver Maxine Muringo Wahome was brought before the Milimani Law Court for allegedly abusing her partner, Asad Khan. She was released pending investigations after posting a $100,000 cash bail.
"My brother is alive although in a critical condition," Adil told Nation Sport.
Adil said his brother has "lost a lot of blood" after the incident assault on Monday.
Asad had been admitted at Nairobi Hospital before he was transferred to Avenue Hospital.
"My brother has received almost 10 pints of blood at Avenue Hospital. He lost too much blood from the cuts."
Adil said he "will pursue justice" for his brother. Police have already arrested and presented Maxine Wahome in court. She is out on a Sh100,000 cash bail.
Adil reads a sinister scheme in the whole saga since it is the management of Preston Court, where the lovers reside, who called him on Monday at around 1pm.
"Maxine was arrested following a report by Adil at Kilimani that she had inflicted life threatening injuries on his brother Asad," Milimani Senior Principal Magistrate Bernard Ochoi, who freed Maxine on cash bail on Wednesday, was told by state prosecutor James Gachoka.
Gachoka had applied to have Maxine detained for 14days to enable police conclude investigations.
But Ms Wahome's lawyer Steve Kimathi opposed the application saying she is willing to assist police with investigations into the matter.
"The nature of the offence police are investigating is bailable. I urge this court to free the suspect on bond pending completion of investigations," Kimathi said.
He said she is not a flight risk and will comply with any terms imposed by the court.