Diamond Platinumz has gifted Zuchu with a necklace that is valued $40.000.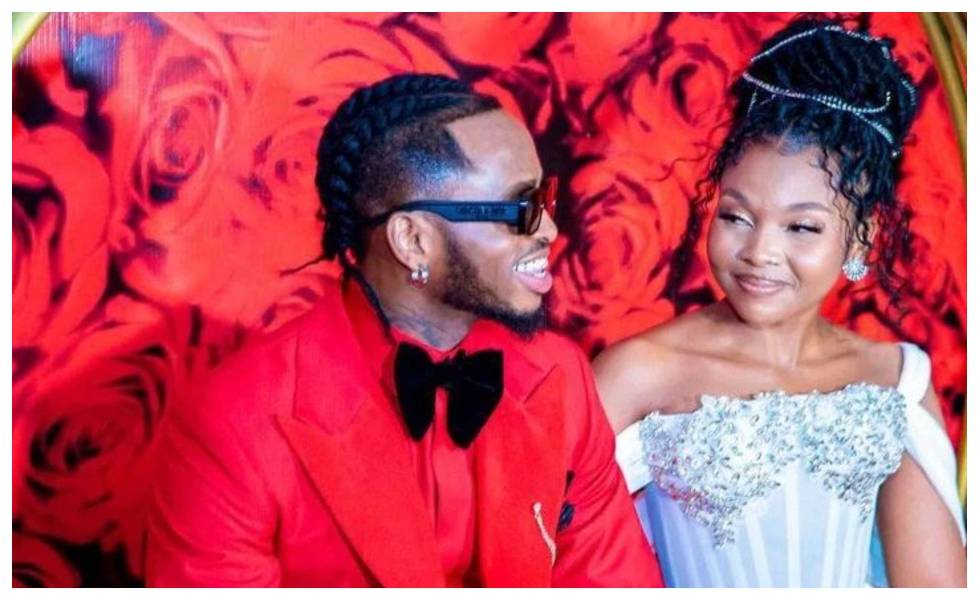 On December 8, Diamond shared the sh 4.9 million neckpiece on his Instagram stories, revealing the price he spent for it.
Her name is engraved on the diamond necklace, which is held together by three ruby hearts.
The pair has given gifts frequently throughout the previous year, so it has become their standard.
In October, Zuchu took to social media to show the gold chain she bought for her WCB boss. Later Zuchu shared photos of the chain with the caption;  "A little gift for my boss, hero."
It took at least two months to design and customize the chain.
The chain made of pure gold has the image of Chibu Dangote's face.
The words; "You will always be my hero," are engraved on the pendant. Upon receiving the gift, Diamond kissed his signee on the lips saying 'Thank you, You will remain at the top," he said.
In May, Zuchu gifted Diamond a new pair of Off-White Odsy-1000 Arrow-motif sneakers that cost around Sh70,000.
On October 12, 2022, Zuchu surprised bae with an expensive neckpiece. The singer on her Instagram video showed off the sh1.5 million gold chain disclosing that it's her birthday gift.
He turned 32 on October 2nd, 2022. The new chain gift had Chibu Dangote's face on it decorated with pure gold.
Zuchu has also upgraded Diamond's wardrobe. It is said she is responsible for his new look as he has been wearing shorts a lot more courtesy of the 'Sukari' singer.
Diamond even flew Zuchu to Paris a couple of months back to spend time together. This was after disclosing he had bought a private jet.
In 2020, Diamond gifted Zuchu a car  The car was brought to the stage where Zuchu was performing by Rayvanny, leaving her in tears while Diamond Platnumz embraced her.  The beautiful show of affection made Zuchu cry as she recalled having to take matatus.
In May 2022, Zuchu got Diamond sneakers. Diamond is an avid shoe collector and his Kenyan friend Maina Kageni once said that the musician owns over 1000 pairs of shoes.
The sneakers Zuchu got him cost sh1.4 million. That's not all, she also gifted her boss Diamond a new pair of Off-White Odsy-1000 Arrow-motif sneakers.
Chibu returned the favour in July 2022, gifting her with custom-made grillz. "Here is to better smiles. Iced out. THANK YOU @diamondplatnumz," she wrote at the time.
The 18-carat gold gift had her initial, and she had to show it off on social media.