Githogoro slum is an informal settlement located along the Northern bypass off the Kiambu Road underpass and borders the posh Runda estate on both sides.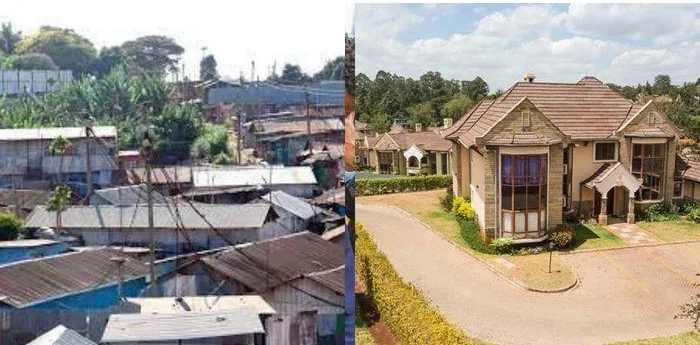 The slum famously known as Githogoro hosts inhabitants, who inherited the land from their forefathers decades ago.
According to the residents, the area is commonly referred to as 'Muringa Farm' and is famed for farming coffee before independence.
They claimed that their parents seized the piece of land following the late President Daniel Moi's decree in 1987 that abolished coffee farming in Nairobi.
In 1992, some members of Muringa Farm sold 42 acres for Ksh170 million to what is now called Runda Meadows.
Once a bushy landscape, it was divided among 72 families in the 1970s each family owning two plots but given that the majority of them came from poor backgrounds, they decided to sell their land, which today forms most of the Runda estate.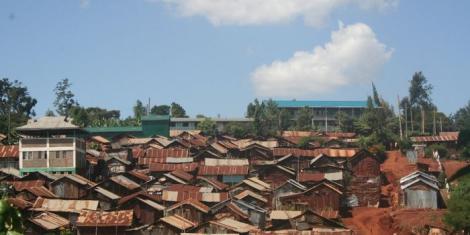 Property in the dingy ghetto is worth Ksh 72 billion, with a half an acre plot retailing at about Ksh 60 million, and a quarter an acre at Ksh 45 million.
Houses in the slum are mostly iron sheet structures with narrow roads and open drainage with heaps of garbage suffocating spaces.
The area has few storey buildings as many prefer cheaper alternatives owing to their financial situation.
Some of the landowners were also beneficiaries when the Northern bypass was built in 2009.
Muringa Farm is presently estimated at 200 acres, with landowners revealing they previously made a fortune by selling part of it to developers.
Githogoro plays host to the hoi polloi of Nairobi but is fancied because of its affordability in terms of rent and low cost of living.
Occupants mostly work in the surrounding estates of Runda, Rosslyn, Fourways and Muthaiga, while others work in nearby malls like the Village market, Two Rivers and the Rosslyn Riviera.
Gertrude's Hospital has an outpatient clinic inside the slum, as a way of giving back to the community through Corporate Social Responsibility – CSR.
Githogoro slum is in Karura Sub-location, Highridge Location, under Westlands Constituency, within the populous Nairobi county.