Actress Lupita Nyong'o has finally revealed her new boyfriend in a cute Instagram Video.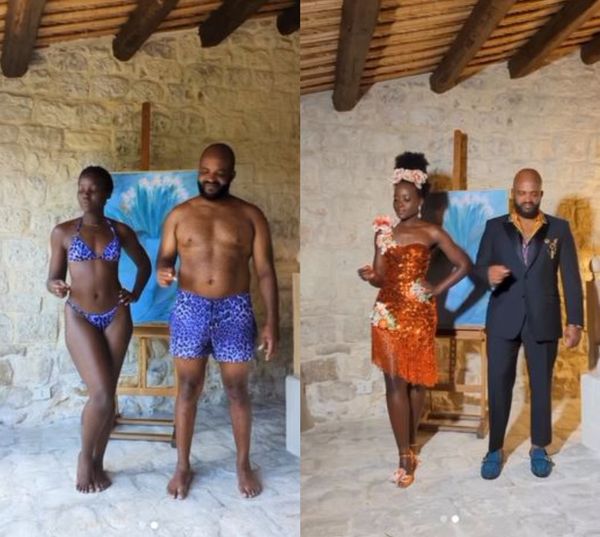 The 39-year-old Blank Panther star announced she is dating Selema Masekela, 51, an American TV host and sports commentator.
"We just click!
," she wrote.
Lupita Nyong'o came out in style to reveal her relationship with her boyfriend, Selema Masekela. The pair snap their fingers back and forth while elegantly showing off their wardrobes.
Masekela is best known as the host of the X Games on ESPN. The 51-year-old made another big move in 2018 when he co-founded Mami Wata, a South African surf apparel company.
Lupita was spotted with Masekela when he opened his store in Venice, California, in April, according to Just Jared.
"The idea of building a bridge between the West and the African continent has always been on my mind," Masekela told W Magazine. "It's my hope that this brand and narrative can help create curiosity and expand what the idea of surf culture looks like globally."
In his October interview with W Magazine, Masekela said the most important parts of his life are "nature, the ocean, and the mountains."
"Also, I like being able to sit around a table with old and new friends, have hours go by in exchange, and leave a dinner table with my worldview sharpened," he said.
Nyong'o continued to dazzle her fans when she starred in Black Panther: Wakanda Forever, which opened in November. As Blavity reported, the 39-year-old gave her fans a behind-the-scenes look when she posted a video of how she trained underwater for the movie.
Nyong'o, who played the "war dog" spy Nakia, swam underwater while carrying dumbbells, which appeared to be about 10 to 15 pounds.
Here are some reactions from Kenyans:
Oswe David: Buana, Mbona anakaa Kinyanjui wa hardware.
Njoro Wamaggy: I all along thought yeye ni Team Kulamba Yogoyogo🏳️‍🌈🤣🤣Kumbe anataka kuolewa na mtu anakaa nduguzanguni?😏🤭
Mamake Nje: She could have done better.. nway love is blind 😀
Lord Kivanani Kasuti: Old is gold; somebody say AMEN!
Nyongesa KE: That's good at least she's not like our broke ladies who want to date rich men😂😂😂
Nandwa Isaac: Good luck naona bwana yake ndio ako na potty amembebea
Essy Waweru: Kumbe lupita nikagogo…. Huyo bro anakaa babangida