Popular YouTuber Eve Mungai is currently ill and hospitalized.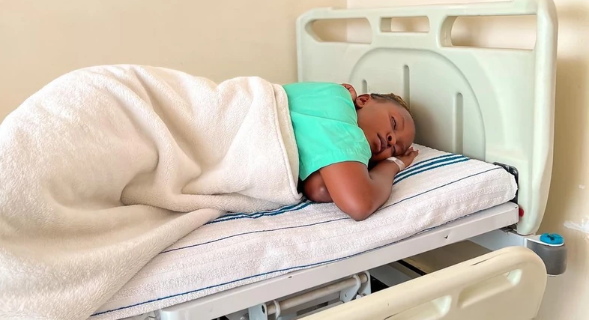 Director Trevor, the YouTuber's boyfriend, announced his girlfriend's health on Instagram, however he withheld further details about her condition.
Director Trevor commented, "Quick Recovery To You My Love, You Will Get Well Soon."
Eve Mungai has been fending off speculations that she is pregnant while receiving news of her illness.
In order to dispel the rumors, Eve disclosed that she suffers from gastritis, a condition that causes her to appear pregnant even if she is not.
"Seems some of my fans really want to see me pregnant. I shared I have been battling gas for long, it keeps coming back even after being treated and recently it got worse after I was diagnosed with food poisoning," she narrated.
"You all stop praying for me blessings that I aint ready for. The issue here is gastritis, ulcers and H pylori, that was the discussion," she said.
After sharing pictures of themselves at a local hospital, the two lovers recently left their admirers wondering.
Despite the fact that the two claimed to be in the hospital, neither of them revealed why they had gone there.
However, based on what post director Trevor, actual name Bonventure Monyancha, said, it appears from a distance that something may be cooking.
Eve has previously reprimanded people who asked if she was considering having kids, claiming that she would do it when she was ready.
Everyone had plans, according to her, and life wasn't simply about having kids.
Her partner Director Trevor, who had got similar inquiries, was deeply impacted by the dialogue.