The youth have been a contributing factor to the growth of businesses, which has enabled them to endeavor in various income generating activities to make ends meet.
In the majority of the businesses within Kitengela town in Kajiado County, you will find young people behind the counter all trying to earn a decent living.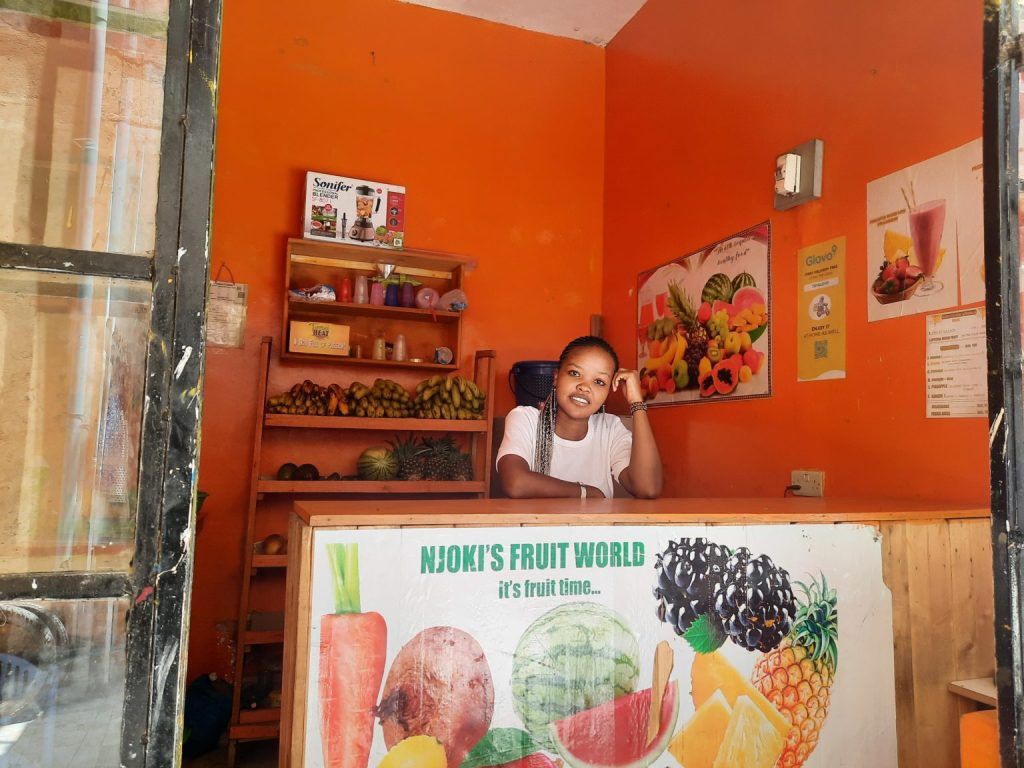 A quick Twitter search on Kitengela you will find Njoki Fruits as one of the relevant topics. She went viral on Twitter after promoting her fruit business on the platform.
She sells fruits, fruit juices, and milkshakes and detox juices.
Njoki Daniel's better known as Njoki Fruits is a young woman in Kitengela who is taking the town by storm.
The 24-year-old started the business when she joined university as an extra source of income and to help her pay school fees.
Unfortunately, due to unavoidable circumstances she couldn't finish school but rose up to the challenge to be independent and self-employed.
"I ventured into the business five years ago after investing Sh600 and started hawking fruits in Kitengela. I would go to offices and be chased away as hawking is not allowed in offices but some days I would be lucky and they would allow me to sell the fruits,'' says Njoki.
Through her passion and commitment to her business, the mother of one was able to build a clientele and save enough money. She saw an opportunity to transform her life from hawking to having a physical shop which she opened in 2021.
"From hawking to opening a shop was a blessing for me, all those times I was chased away from selling really taught me resilience. I saved enough and got this space where I now sell to my existing clientele and I get customers who would be walking and out of curiosity they buy from me,'' she says.
She credits her growth to social media "The online space has been great for me. I get a lot of orders from my social media platforms. And thanks to online delivery platforms my fruits get to people who can't be close to me.''
The only challenge she faces now is the trolls she can encounter on social media as well as extreme weather changes as fruits can't be found easily.
"During the cold and rainy season it is really difficult to get the fruits I sell. They are hard to find and suppliers increase the prices. I normally save rent for three months just to be safe,'' she added.
Njoki calls upon the youth to find something constructive to do rather than wait for white collar jobs, saying that with hard work, resilience, determination and the power of social media one can come up with a good business.
She hopes to expand her business and open up more branches of Njoki fruits in future while giving an opportunity for unemployed women to develop themselves through employment.