Clout chasing is a strategy that has been extremely successful for other musicians, such Vera Sidika and Zuchu, but it was not created with the Akorino twins in mind.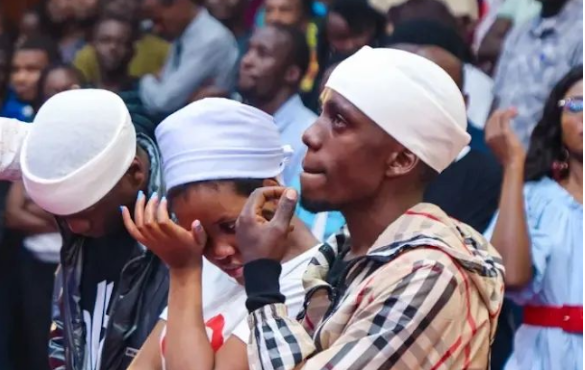 The Akorino twins stated to Mpasho's Mary Ng'ang'a that nothing positive had come out other than the online animosity that had been crushed down, shaken together, and was now running over.
"Hatujapata anything good out of the whole thing, hakuna opportunity zimekam, ata watch time ya YouTube hatujapata."
Before the video was posted, they had 200 subscribers, and since then, they have steadily increased to almost 3K, according to Emily's fiancé, Peter.
"Before we went online with the story, we had less than 200 subscribers, and currently we are at 3.3K."
Peter stated it was disappointing because they had anticipated at least 150,000 subscriptions, despite the fact that he thought it was a good thing.
"We were expecting ifike 200,000k subs, 13o, 000k au 150,000k subs ikienda chini sana, considering ilijulikana kila place."
He continued to express his remorse for having come up with the concept, saying that the effort had not been worthwhile.
"I regret that we pulled the stunt, we have never been negatively affected in our lives as we have experienced the past few months."
Peter went on to say that they suffered friend losses and a great deal of draining negative energy.
"First, tumepata hatred ile mbaya to the extent we have lost friends.
Secondly, iyo hatred ya online imetuaffect sana sana juu hiyo matusi ilikuwa mingi na hatukuwa tunaexpect, ata after tumesema ni clout, hawakuamini."
After the clergy called them out for defiling the church, the soon-to-be father claimed that guilt forced them to come out.
"Tulipewa Pressure mingi sana na clergy, hadi Pastor T alireach out. Sanasana watu wa dini ndio walituambia tunakosea, na tunaibisha Mungu na dini.
Guilt ilikuwa mob tukaona hatutaendelea, ikabidi tusafishe rada."
The twins and their parents disagreed about the concept more to the church.
"Mum ndiye alikuwa amejam mbaya but mzae alikuwa ameelewa already juu tulikuwa tumemshow, though alituambia story ndio inachoma so tujaribu kuchange storyline."
What about Emily's mum?
"Mama ya Emily ndiye alikuwa anaelewa zaidi, akatushow kama hapo ndio tutasaidika, tunaweza ifanya."