The Kenya Revenue Authority is housed in the landmark Times Tower, which is visible to many of the thousands of Kenyans that travel through Nairobi's Central Business District (CBD) each day (KRA).
Few individuals can accurately recount the tower's history, including the work, sweat, and tears it took to have the building up and operating by the year 2000, despite the fact that it dominates the city skyline with its spectacular 38-floor attraction.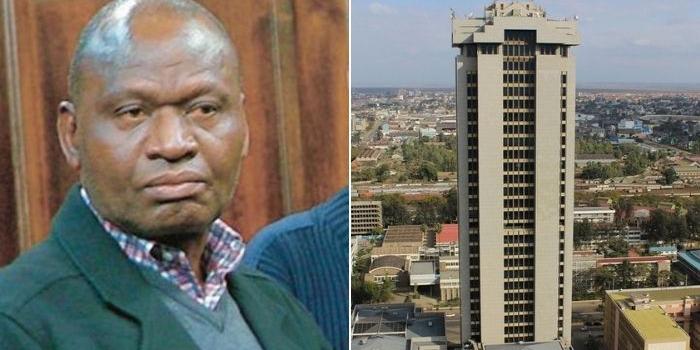 History books claim that James Mugoya Isabirye, a businessman from Uganda, formed Mugoya Construction & Engineering Limited, which was given the contract to build the tower, which was designed by Triad Architects.
After being accepted to study engineering at the University of Nairobi, Mugoya entered Kenya for the first time.
The tycoon, in his outgoing nature, was quick to make friends while at the University and befriended children of high-ranking individuals including the son of former President Daniel Moi.
After graduation, he set up the company, Mugoya Construction & Engineering Limited, and almost immediately, started landing huge contracts such as the National Social Security Fund (NSSF) building and Hazina Estate.
In 1992, the company received the contract to build the Times Tower, which was then to be the tallest building in Kenya. The whole process lasted eight years before the behemoth was ready for occupation in 2000.
For the next 15 years, the 38-floor building which measures 140 meters and has a seven-storey banking complex and another 11-storey split car park, was the tallest across the skyline.
It has, however, been dethroned by Britam and UAP towers which were completed in 2017 and 2016 respectively. It is now the third tallest building in Kenya.
The tower, which is served by 10 elevators and was built to resist earthquakes, was financed by the Central Bank of Kenya as well as the state.
At the time, the company continued scoring contracts that allowed it to expand its portfolio well out of the city including Moi High School, Kabarak, Kabarak University and the Kisumu Provincial Headquarters.
The company, however, was later involved in legal battles, with the most dominant being the claim of land where the Ksh20 billion Hilton Upper Hill Tower was to be built.
In 2015, the High Court also ordered that the company be liquidated after findings revealed that the company had been unable to pay its creditors. A receiver manager was appointed to oversee the process that included selling some of its assets.
The liquidation came after an accrued debt that included a Ksh324 million compensation paid to NSSF.
Mugoya continued to have run-ins with the law both in Kenya and Uganda, including a claim that he sold machinery worth Ksh3.5 billion from his company although the property had been charged to a bank.
Mugoya Estate in South C, which is a middle-class gated community, is named after him.