Singer Jovial has shared the terrifying experience that happened this last weekend of her a fan who sexually harassed her after she performed.
According to her, it was her first experience, and she had to take matters into her own hands.
She claimed that she turned against the unexpecting culprit, who was shocked to see her quick reaction. Most female artists, who find themselves in such situations, wait upon their security officers to deal with the perpetrators. Jovial refused to follow this trend as she did not wait for her security officers to protect her.
"I'm not gonna wait for security to take action! Nitakuvuruga!" said the brave singer.
She said she is sure that her reaction will make the man and others who intend to do the same to other artists stop the nasty behavior.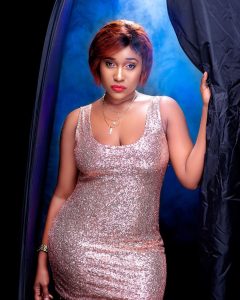 Her whole post, which she shared on her insta-stories, read,
"So for the first time a fan disrespectfully grabbed my a*** after performance tukipita kuenda kukaa! Labda nitakuarifu ti kama wewe pia una hiyo tabia! Maana hata yeye hakutarajia nweza kugeukambogo ghafla! Im not gonna wait for security to take action Ntakuvuruga! Nina uhahikika hawezi kuridia tena!"
Jovial's plight comes when cases of artists being sexually harassed by fans are rampant.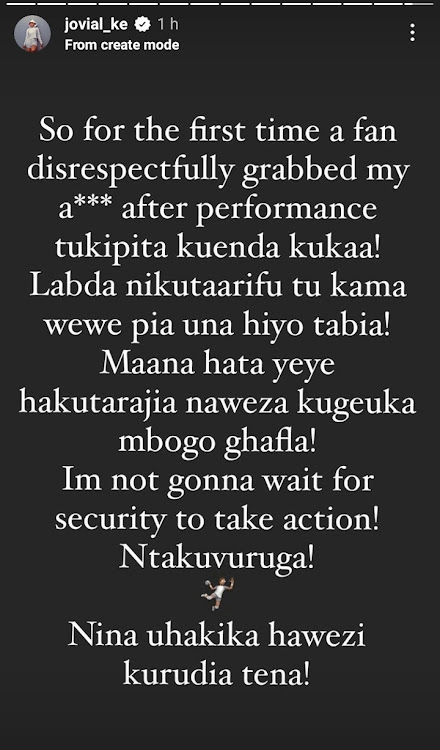 The most recent case concerns Nigerian artist Ruger, who left the stage furiously after a female touched his private parts inappropriately.
Sometime back, Kenya's African pop star, Nadia Mukami, complained that a fan assaulted her.
Nigerian-based Kenyan Singer Victoria Kimani told Betty Kyalo in Weekend With Betty about an incident where a fan in Kisumu touched her behind inappropriately, claiming she was dressed indecently.
Interestingly, Jovial has broken the record to be the first Kenyan female artist who has fought these immoral funs.
Do you think Jovial's way is the best way of dealing with sexual harassers?