Kileleshwa Ward Neighbourhood Association (KIWANA) members have issued summons to aspirants wanting to represent them in the Nairobi County Assembly.
The screening session is intended to allow the aspirants to identify themselves to the voters, according to a letter dated April 2 from the association, which is made up of residents from the neighborhood.
One of the event's organizers revealed that the interviews will take place at Kileleshwa Covenant Community Church on Saturday, April 9, 2022.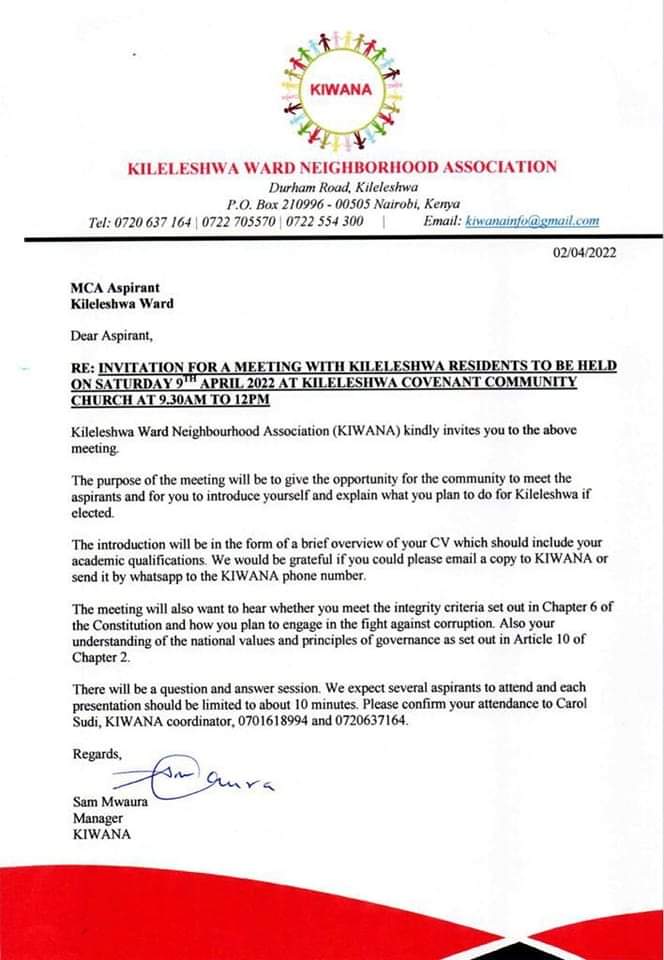 She went on to say that the discussion was planned after people wanted a chance to get to know the candidates better, and that some had already confirmed their attendance.
"The reason why it is happening is because it was a request by the residents. They would love to meet the people they would be voting for.
"Many of the aspirants are coming. As at now, I have almost six confirmations. Deciding to vie is someone's decision but voting is something personal and people will choose those they want to vote for. That is why they want to meet them. If someone does not come, it means they are not ready to sell (their manifestos)," she stated.
https://twitter.com/gabrieloguda/status/1510863838505226242
The locals also gave the hopefuls a list of conditions, including presenting their updated curriculum vitae (CVs) that properly outline their academic qualifications.
The session will also look into the politician's honesty and abilities to fight corruption if elected.
"The introduction will be in the form of a brief overview of your CV which should include your academic qualifications. We would be grateful if you could please email a copy to KIWANA or send it by whatsapp to the KIWANA phone number .
"The meeting will also want to hear whether you meet the integrity criteria set out the Constitution and how you plan to engage in the fight against corruption . Also your understanding of the national values and principles of governance as set out in Article 10 of Chapter 2," stated the letter.
Controversial blogger Robert Alai is among the aspirants expected to attend the event to sell his manifestos.