Clement Munyao is a highly learned Kenyan neurosurgeon serving a life sentence at Kamiti Maximu Prison.
In an interview, Munyao narrated how he ended up behind bars.
According to him, he was found guilty of the murder of Moses Gituma, a senior officer at Kenya's Central Bank and brother to former Commissioner of Police Mathew Iteere.
Speaking to a local TV station at Kamiti Maximum Security Prison, Munyao said he landed in trouble after purchasing a second-hand phone for his daughter from a mortuary attendant at Kenyatta National Hospital where he also worked.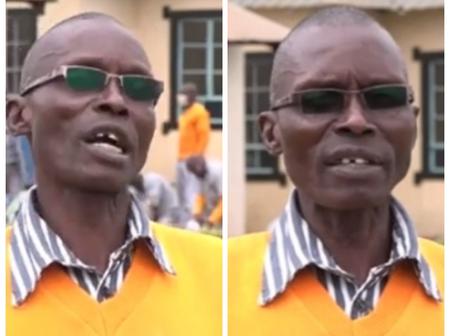 His daughter, a Moi University student at the time, went to school and later gave the phone to her boyfriend. Officers tracked him down and apprehended him while he was in possession of Gituma's phone, which belonged to a Central Bank of Kenya employee.
During questioning, the boyfriend claimed the phone belonged to his girlfriend, who was also detained and led the officers to his father in Nairobi. The phone was obtained by Dr. Munyao from a mortician he knew, he informed the cops.
Munyao was accused with Gituma's murder and, after failing to prove his innocence, was sentenced to 30 years in prison in 2009. He challenged the verdict, but was eventually found guilty and sentenced to death.
During the conversation, Dr. Munyao stated that he feels he has lost a lot while in prison, despite the fact that he continues to care for fellow inmates.
Munyao worked as a consultant and paralegal at Kamiti and rejected claims that he was a quack doctor. The inmate displayed his certifications and a full curriculum vitae to back up his claims.
He also wears a tag on his orange sweater that he flaunts about. It reads, "Dr Munyao – Paralegal."
"I am a medical practitioner who graduated from Nairobi University in 1980 with a Bachelor in Medicine and Surgery. I then graduated with Masters in Human Medicine and Pathology at the same university in 1987 and a Masters in Forensic Medicine in Scotland in 1991," he told Inooro TV.
Munyao, who is also a paralegal at Kamiti, says he never lets his inmate status interfere with his daily operations at the prison.
"Being in the paralegal aids me to practice medicine," he said.
Death of Gituma
The convict and four others including Gituma's wife, Janet Karamana, were accused of plotting and orchestrating the murder of the civil servant. Karamana was further accused of hiring hitmen to murder the husband at Nairobi's Garden Estate.
Detectives linked the case to a row over Ksh45 million benefits from the CBK, payable to the next of kin. Karamana allegedly wanted to benefit from the said amount.
KNH Response
His tribulations began, a run-in with the law, seeking representation from defence attorneys to losing his freedom. What pained him the most was that KNH denounced him.
Florence Nduki Mutiso, an employee of Kenyatta National Hospital since 1981 and the head of Human Resources testified stating that Munyao was a liar and imposter.
"Mutiso maintains records of all employees. She categorically testified that the code for Kenyatta National Hospital starts with 52 or 53. She confirmed that the said hospital does not have personal number 314316 (as claimed by Munyao).
"She denied that Clement Munyao Katiku was an employee of Kenyatta National Hospital at any given time. That personal number 314316 is fake and casual workers were not given personal numbers," court papers read.
Munyao in a recent interview, however, lamented that he was betrayed by his own employer.
(center)(em)(small)(font color="silver") --Advertisements-- (/font)(/small)(/em) (/center)
"For the 25 years I operated on patients at KNH, no death was ever reported. None at all," he insisted in a recent interview.
FOLLOW US ON SOCIAL MEDIA