So far, 14 suspects have been arrested in connection with the Friday attack in Uasin Gishu County that targeted ODM leader Raila Odinga's chopper and vehicles in his convoy.
When unruly teenagers began pelting his chopper with stones, the former premier and his allies had just arrived in Soy for the burial of the late 'Men's Conference chairman' Mzee Jackson Kibor.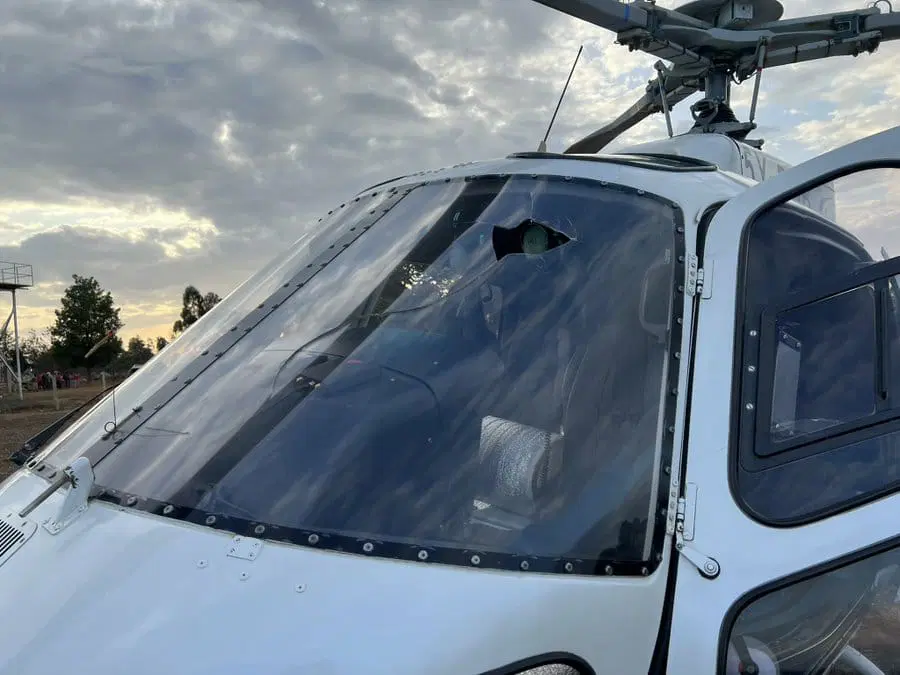 Uasin Gishu County Commissioner Stephen Kihara told the press in Eldoret on Saturday that the accused are now assisting police with their investigations.
"We have moved around through the night and we were able to arrest 14 youth who participated in throwing stones yesterday," he said.
Kihara expressed confidence that the police will identify the perpetrators of the attack, which he described as unfortunate and isolated, with the cooperation of the apprehended suspects.
"We're conducting subsequent investigations and we will nab the person who likely organized the incident. Regardless of who was involved, he or she will face the law and this will be a lesson for persons preaching politically instigated violence," he added.
While urging the youth to work for peace during this election season, Kihara also emphasized that all politicians have the constitutional right to campaign in any part of the country without fear of threats or intimidation.
Earlier, Governor of Uasin Gishu Jackson Mandago condemned the attack while distancing himself from charges made by certain Odinga allies that he had coordinated the attack.
Junet Mohammed, a member of Parliament from Suna East, and Babu Owino, a member of Parliament from Embakasi East, were singled out for making the assertions.
"I want to address one Junet Mohamed and Babu Owino that probably because they have been in a league of politics of violence, they think that every politician in this country subscribes to that kind of nonsense," said Governor Mandago.
"If I was a politician who was just saying things about political divides and politics of hatred, I would not have given them my car. I don't know how Junet forgets that fast."
He added: "My own car was stoned so how can I organize violence against my own security. We can differ in political ideologies but that does not make us enemies."