Love is, indeed, a beautiful thing, and it feels nice to be loved. Gospel singer and TV host Grace Ekirapa could not hold her tears after her husband, actor and director Pascal Tokodi surprised her on a live television show.
The expectant singer was biding her fans goodbye as she goes for her maternity leave when her husband walked in the studio carrying flowers.
The simple beautiful surprise was planned by Grace's co-host, DJ. Son of Nations. He said he had to make Pascal wear his shoes to prevent Grace from recognizing Pascal through the cameras as he walked into the studio. He and the host replacing Grace introduced Pascal as Grace's die-hard fan who wanted to meet her in person.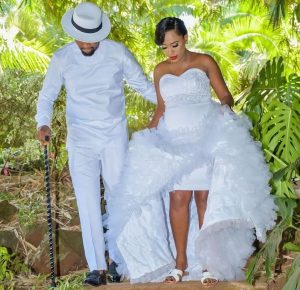 At first, Grace reacted with panic as she had no idea who wanted to meet her. Her panic turned into a sweet, emotional reaction when she saw her husband.
"My heart is beating fast," she expressed as tears rolled down her cheeks.
However, it was not easy to surprise the sweet singe. Pascal revealed that she was mad at him the previous night when he stepped out to talk to someone who happened to be DJ. Son of Nations. He also revealed that he had not combed his hair because he did not want Grace to realize he was going somewhere.
In their good-bye message, DJ Son Nations and his new co-host congratulated the couple for their pregnancy as they wished them well. They claimed that they pulled the surprise because Grace is an inspiration to many people through her upright lifestyle and hosting.
Grace and Pascal celebrated a baby shower in the form of thanksgiving, where they revealed they had miscarried their first child. They claimed that they were hopeful that God would allow them to carry their current pregnancy to term.