Former Kibwezi MP Richard Kalembe Ndile died last year after a long illness, according to his family.
Though Ndile is not here with us anymore, there is a lot we can learn from his life, career and politics.
He was a true hustler in politics; a man who exemplified true selflessness and a story of nothing to something.
Well known for his 'Tip Tip Amani Kenya' slogan, the vocal politician was born in Western Uganda near the Rwenzori Mountain in 1964 from where he got the Kalembe nickname.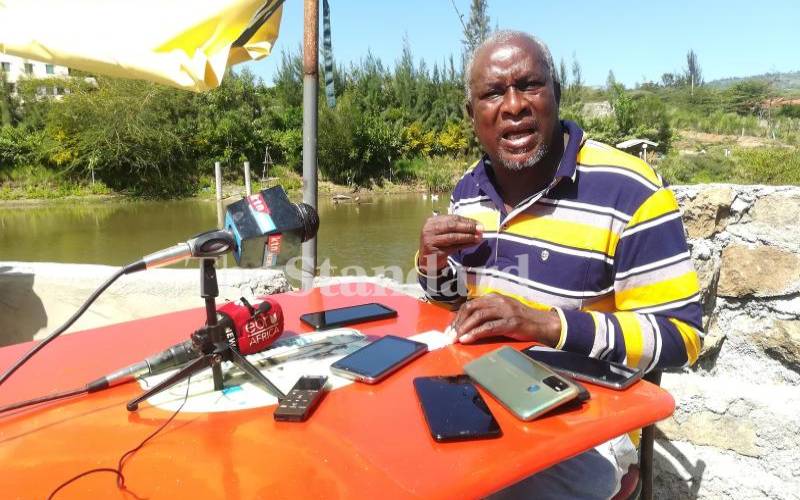 In an interview with the Standard, Kalembe said his father had relocated in the early 1970s to Uganda where he worked as a labourer during the construction of the Mbarara Ntugamo Road.
Education
He started his primary education at Kamwenge Primary School where he completed Primary Five.
Kalembe prided himself on the ability to speak at least three Ugandan local dialects including the Kinyankore, Kikiga and Kirutoro.
"I was very young and always sickly. My mother regularly took to me to the Kilembe Hospital and one of our neighbours decided to call me Kalembe due to the frequent visits to that hospital. I found the name appealing and adopted it," he said.
Since his father was a machine operator, he found life in Uganda appealing and decided to settle there.
However, his family was caught up in the Idi Amin and Julius Nyerere war which prompted them to come back to their motherland.
When they moved to their Manyani ancestral home, they found the land had already been grabbed and sold.
They had to start from scratch to make ends meet.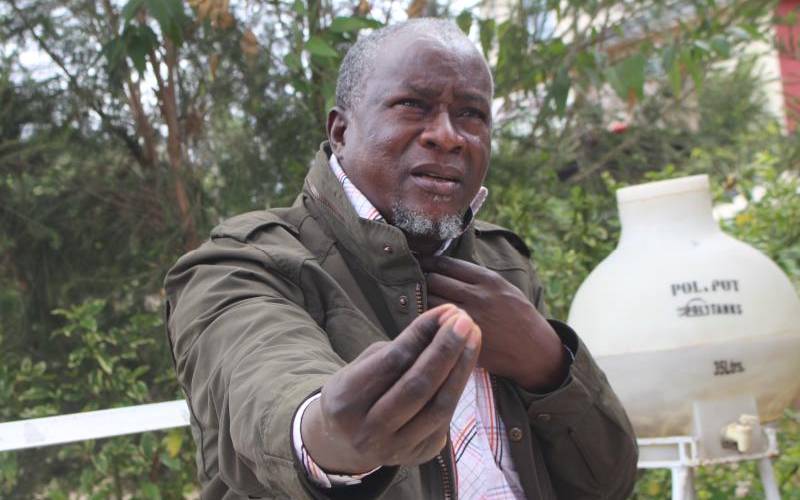 Kalembe later joined Emali Secondary School and upon completion, moved to Mombasa where he secured a job as a messenger at the Bayusuf.
"Here I would clean toilets, wash the office and serve my bosses tea. No one is born with money and in this life, you must always start from somewhere," he said.
A man known to be preaching both good and bad news, Kalembe said though he never dreamt of being an MP, he had opportunities in early life to serve as a leader.
"In Standard One, I was privileged to be named as a class prefect but unfortunately, I was dewhipped the following day. At Bayusuf, I was named as a steward after fighting for the welfare of other employees," he said.
Five years into his employment, Kalembe said he went back to clear his secondary school fees arrears so that he could collect his certificate, only to find the school closed.
"I was heartbroken because, on arrival, I found that the school had been closed and the owner relocated," he said.
This did not bring him down, he decided to venture into business and activism which later earned him a political voice.
Business and Activism
"I started hawking bananas and honey to make some money. In the process, I got married and missed the opportunity to be a priest," he said.
When nothing much came forth, Ndile ditched the hawking business and decided to try his luck in charcoal and sand harvesting which propelled him into his political journey.
"I have been through a lot of suffering. This is why I developed my 'Amani Kenya' slogan because I would not pass by when I see another human suffer," he said.
After years of speaking against land grabbing in the Ukambani area, he made his first political appearance when he was elected as the councilor for the Makueni County Council in 1997.
Kalembe later decided to fully venture into politics and was named the Chairperson of the SDP party whose leader then was the current Kitui Governor Charity Ngilu.
He said in his many years of activism, getting an identification card was a challenge.
The politician said he was a small-bodied boy and the chiefs who were in charge of registration of persons did not believe he was old enough to get one.
"They were perceived as demigods. They were the ones calling the shots."
Despite all the hurdles, when he got a chance to serve as a counselor, he used his influence to impact the lives of many Ukambani residents.
Politics
From allocating lands to drilling boreholes, he perfected his politics and later took a stab at the Kibwezi parliamentary seat and won in the 2002 election.
However, he was not as lucky in subsequent attempts to win back the seat.
Kalembe lost the seat to ODM's Philip Kaloki in 2007 and to Wiper's Patrick Musimba in the 2013 general election and later in a by-election.
Despite his losses, the politician found his way back into government with a 2015 appointment by President Uhuru Kenyatta to the board of the Tana Athi Waterworks for three years.
He also served as the assistant minister for wildlife in the National Alliance Rainbow Coalition (NARC) government.
Kalembe ditched Ngilu and formed The Independent Party (TIP) and joined the Jubilee coalition before the 2017 election.
In his last political days, in an interview, Kalembe said Deputy President William Ruto who brokered the deal for him to join Jubilee did not honour his word.
"He told me that I would be given a ministry if I folded Tip Tip and joined Jubilee to which I did. Later on, I was sidelined," he said.
Ndile in an interview with The Standard said he knew he would become a Lands minister in the current administration to help the Ukambani community.
He later became a staunch supporter of Kalonzo Musyoka's Wiper Party having played a bigger role in the just-concluded by-elections in Kitise/Kithuki ward, and Machakos senatorial seat where the party won.
In 2019, Kalembe dismissed multiple death reports that surfaced online.
He told journalists that he was alive and well, further condemning those responsible for spreading fake news.
Last moments
Kalembe, 57, had been in and out of hospitals for some time before his death.
The family spokesperson on Sunday said, "On Wednesday night at around 8pm he became seriously sick while at home and I took him to hospital. At around 10pm, we were referred to Aga Khan but could not find a bed."
He is reported to have asked his brother to take him to Nairobi Hospital instead.
Kalembe was diagnosed with multiple illnesses including; liver cirrhosis, cancer of the stomach, and kidney failure, for which doctors recommended surgery.
He was taken into the Intensive Care Unit (ICU) on Saturday night but was pronounced dead early on Sunday morning.
Kalembe leaves behind 10 biological children, and six adopted children.