A Kiambu man has shocked many with his unique application of the farm tool, literally taking it from the garden to the barber chair.
Julius Mwangi, a 24-year-old barber from Kiambu, reveals he came up with the concept of shaving people with an axe while looking for ways to stand out.
In a phone interview with the Standard, the father of one narrated his path as a barber and how he conducts the job to deliver clean shaves and leave delighted customers.
He said his decision to start using an axe was to attract new customers, admitting that it really worked.
"Famous people were coming around often and I decided to look for a unique way to attract customers and make shaving fun. That is how I landed on an axe," he said.
The creative barber admitted that the axe attracts many people, however, not everybody is happy about being shaved with an axe.
"When people hear of a barber shaving with an axe, they are curious to know where. Some come to see and take photos with the axe but prefer not to be shaved with it.
Some come full of fear, but I help them overcome it," he said.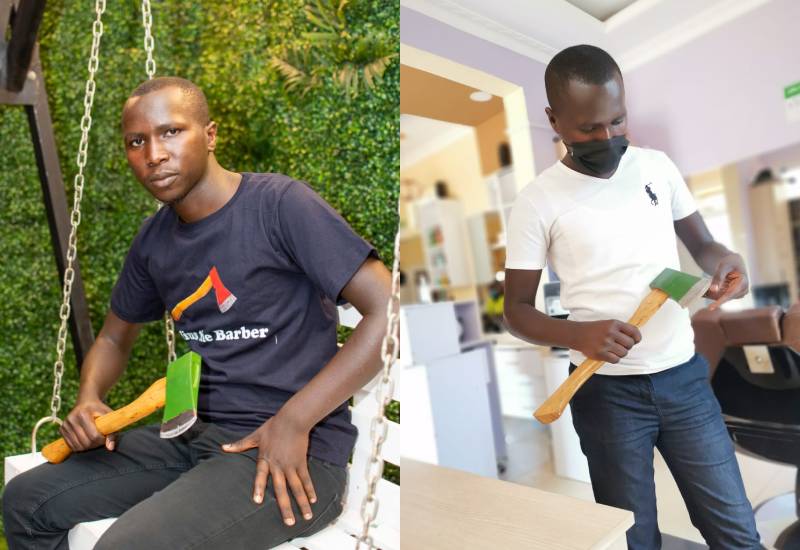 Why chose an axe
Mwangi disclosed that shaving with an axe is advantageous over the usual shaving machine.
"The axe gives a smoother shave which is more suitable for the Jordan style. Also, when there is a blackout, I continue with my work as usual," he said.
He also disclosed that the axe is better suited for shaving clients with full beards.
"I am looking for a lighter axe because this is a bit heavy. I currently charge KSh 500 for a shave but the price will go up with demand,' he added.
"I can't risk this much. I love my head and neck,' David Nyaga Njeru.
"This guy has perfected the art, it can't work for everyone,' Gatimu Robert.
Background
According to Mwangi, he grew up in a typical, loving household, where both parents worked hard to make ends meet.
"I recall having a good childhood. I lacked nothing, but everything changed when my father passed away. I was seven years old at the time. From then on, getting basic needs at home became a struggle," he said.
"Growing up, I wanted to study something to do with electricity and wiring because I found it interesting. What I am doing right now had never crossed my mind," said Mwangi. But a chance visit by a relative would change the young man's fate over the next few years. When a brother-in-law stopped by to see Mwangi's family in Murang'a, he offered to employ the lad at a barbershop – on condition that he went to cosmetology school and got trained.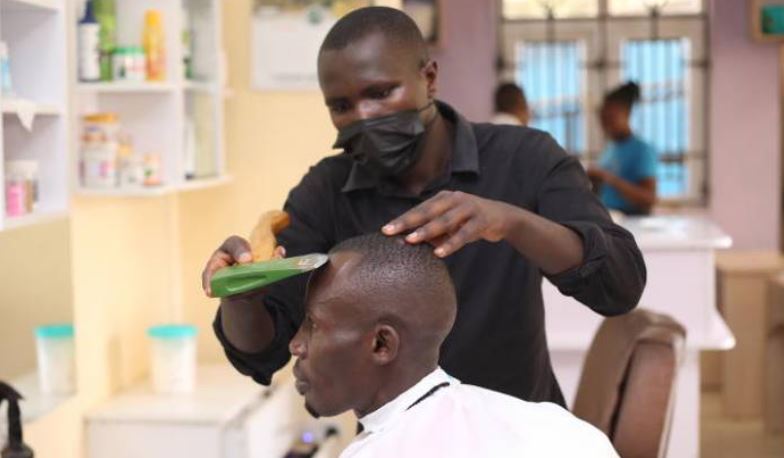 "I quickly went for an apprenticeship-type training at a barbershop near our home. After my training, I started to grow my clientele, who would call me and refer me to their friends."
As for using an axe, he practised on the heads of family and friends until he perfected the art. "I wanted to give people cheaper services. I kept challenging myself on unique ways to cut hair. If someone can use something like an axe, which does not require electricity, it means they can cut hair anywhere and for a more affordable price," he said.
Shop
The hairdresser currently works at a barbershop in Thindigua, Kiambu Road where he charges Sh500 per haircut. He has employed seven other hairstylists employed at the shop.