Comedian Sande Bush aka Dr Ofweneke has expressed his anger with Milele FM host Ankali Ray who called him to inquire whether they were still together with his wife Christine or they broke up.
A enraged Ofweneke told the journalist to stop being inquisitive and focus on constructive journalism in a recording posted to Milele FM's Instagram page.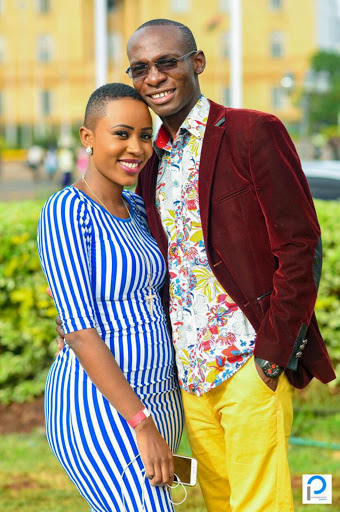 He went on to say that he would raise the issue with the presenter's employer, Alex Mwakideu.
"This year I told you to leave my family business alone plus my past marriage, if we are together or not, how does that concern you.
"Do I have to post to the public to prove that we are together, Ankali, I will tell you this as your big brother, I don't need to post photos about my wife and children for people to know that we are together. Ask me about my projects,
"If you want to proudly pay your bills with my bad news I will not allow you and will call your boss Alex Mwakideu, because I don't like this. I'm old and its high time you guys start respecting me in this industry. You are calling to ask me because I'm not posting my family? How? This thing will bite you. This thing of looking for sadness in people's life." 
https://www.instagram.com/p/CbF1mYmoMom/
According to Dr. Ofweneke, his marriage is doing well and he assured the presenter that it was not going to break anytime soon.
"Me and my wife are okay, I'm in a happy marriage and I don't have to explain that to the public…you can't be looking for sadness in people's life every day, you are doing this thing the wrong way. I will call your bosses about it and I have stopped posting my family because of people like you. I will not give this industry a reason to celebrate my sadness… my wife is even here I can see her. I'm one of the successful comedians in Kenya and my marriage is not breaking and don't call me again."